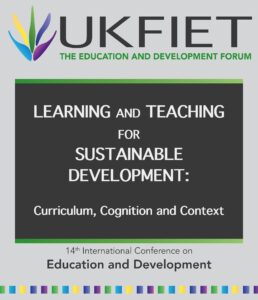 Announcement of 2017 Conference Theme
Learning and Teaching for Sustainable Development:
Curriculum, Cognition and Context
5 – 7 September 2017
UKFIET's 2017 Conference will be on theme of Learning and Teaching for Sustainable Development.  What is taught and learnt are at the heart of education's contribution to sustainable development. It is through the construction of curricula that certain knowledges, skills, attitudes and values are prioritised and learning organised across the wide range of educational settings and levels. International education policy debates in this millennium have been dominated by access and, more recently, quality, without sufficient attention to questions of what is and might be learned and taught, and how. Such debates are needed and will be profoundly influenced by new understandings of learning processes and how these vary across learning settings and contexts. Prioritisations of what should be taught and learnt are always political as well as technical. Crucial here too is the rise of attention to what individuals and communities value in terms of a set of capabilities that for them define sustainable development.
The arrival of the SDGs brings a new insistence on thinking about these issues for lifelong learning, not just schooling. Both SDG4 and the wider set of 17 SDGs, moreover, bring a new set of questions about what different actors think should be learnt across all levels and modes of lifelong learning about a wide range of aspects of life, from energy and water use to promoting peace and gender equality. A revisiting of the content of education is simultaneously a revisiting of education's purpose. 
Launch of 2016 Global Education Monitoring Report
Education for people and planet:




Creating sustainable futures for all
The Report launch focusing on the thematic section of the report, which examines the relationship between education and sustainable development will take place on 6 September 10.00am - 12.00pm in central London, venue to be confirmed.
All are welcome please register for this here

Following this, there will also be an Academic Launch which will be hosted by UKFIET and BAICE to provide more opportunity for discussion and focus on the question of appropriate indicators for monitoring SDG4.
This will be held 2.00pm – 4.30pm at UCL
To register your place for this and to arrange for an electronic copy of the Report to be emailed to you please register here.
Both the events are free to attend, the GEMR Team are keen that colleagues attend both events if possible.