This blog was written by Priyanka Upreti, Global Schools Forum. It is based on a presentation given at the 2023 UKFIET conference.
At the recent 2023 UKFIET conference, Global Schools Forum (GSF) hosted a panel session about early childhood education in crisis situations. GSF was joined by Lauren Gerken from INEE, Felicia Bechtoldt – the State Secretary at the Ministry of Labour and Social Protection of the Government of Moldova, Mihaela Iurascu from Street Child, and Oriana Ponta from the UBS Optimus Foundation.  
Conflicts, crises, and climate change have resulted in the displacement of millions of children across the globe. Today, 16% of the children displaced are under the age of five (UNESCO, 2019), and the youngest children are most vulnerable to the impact of crises. Early childhood education and development (ECED) offers safety, security, and stability for children in crises. Despite its importance, ECED programming in emergencies is not viewed as a central pillar of humanitarian response.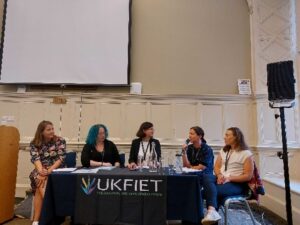 Given this context, GSF's panel explored the prevailing state of evidence on ECED in crisis settings. With a particular focus on the support extended to Ukrainian refugees in Moldova, the panel delved deeper into promising ECED models for emergency settings. Lastly, the panel discussed ways to equip ECED practitioners in emergencies to improve evidence-generation methods and expand knowledge of what works and does not, in such contexts.
Here are our main takeaways from the session:
1. There is an urgent need to invest in monitoring and evaluation of ECED programmes in conflicts, to better understand what works in such contexts and identify barriers towards implementation. The panel discussed that access to better evidence results in stronger ECED programming/policies and supports informed decision-making on future investments in the area. More specifically, the panelists shed light on the importance of generating evidence on models targeting children in the age range of 0 to 3 as it is an often-underrepresented group, and their needs are distinct from those of pre-primary age children.
INEE has been bridging the evidence gap by facilitating a working group on Early Childhood Education in Emergencies, with a goal to promote collaboration and knowledge sharing, build and disseminate resources, and conduct advocacy. INEE has produced useful resources on critical areas of ECED and emergencies. In the panel, they briefly introduced relevant thematic briefs namely Promoting Climate-sensitive Early Childhood Care and Education in Emergencies, and Opportunities and Challenges for Disability-Inclusive Early Childhood Development in Emergencies. They are also close to launching a resource on 'Advocating for holistic support for young children in acute emergencies.'
2. Government systems play a key role in building resilience in protracted crises, especially in delivery of ECED services. The Government of Moldova has developed an ambitious agenda for the rapid expansion of ECED services, and the integration of Ukrainian refugees into this provision. The government is partnering with Street Child and the UBS Ukraine Relief Fund, for this initiative.
The National Programme's vision is to create and deliver quality childcare services to refugee children from Ukraine under 3 years of age whilst expanding access to equitable, quality early education for early learners from Moldova and Ukraine. It aims to achieve this by focusing on (a) expansion of public creche services, (b) expansion of private creche services, and (c) creation of alternative childcare services like workplace creches, individualised care, and family type care services.
To inform expansion plans, the Government of Moldova is generating real-time evidence through its partnership with GSF and Street Child. Currently, a framework is under-development to enable a multi-level evaluation of the National Programme.
3. There is emerging evidence from Ukraine which stands to provide valuable insights for other emergency contexts. The UBS Optimus Foundation, elaborated on two evidence themes emerging as part of the Ukraine Relief Fund. One is by Teach for Ukraine which is offering a tech-enabled tutoring programme, focused on providing socio-emotional support to Ukrainian students. Preliminary results from the programme indicate a reduction in stress and anxiety levels, along with an enhanced level of grit, and improved math scores. Another innovation is in collaboration with OutcomesX. OutcomesX is creating a marketplace for measurable and valuable social impact units, while making it easier to identify grassroots organisations that are making a tangible difference. The UBS Optimus Foundation has selected 24 organisations from their portfolio and is extrapolating learnings across programmes aimed at achieving common goals.
4. Collective philanthropy is a promising approach to strengthen funding to grassroots organisations and maximise impact. The Ukraine Relief Fund, of The UBS Foundation, is an example of collective philanthropy. Pooling resources can amplify the reach and effectiveness of aid, especially in crisis contexts. The flexibility of the funder, that comes with the collective philanthropy approach, is more responsive to the needs on the ground. It also makes the process of receiving aid simpler for recipients, especially for local or grassroots organisations. So far, the UBS Foundation has supported at least 62 local grassroots organisations, either directly or through their partners.
5. Grassroot practitioners are pivotal in the delivery of ECED services in emergencies and need relevant tools and resources to advance their impact. GSF has been actively researching trends, innovations, and gaps on ECED in emergencies with a primary focus on grassroots practitioners. At the panel, GSF presented critical insights from their landscaping research. To begin with, GSF elaborated on the importance of a "two-generation approach" in bringing sustainable change in emergency contexts. The approach aims to address the well-being of both children and their primary caregivers and is rooted in the perspective that the well-being of caregivers and children is deeply interlinked. Another insight highlighted the criticality of providing psycho-social support for children and caregivers in crisis settings. Lastly, GSF discussed the need to address governance gaps specifically around poor data quality, and the absence of coordination amongst governmental bodies to improve ECED response of grassroot organisations in emergency settings.
In the coming months, GSF will launch an Evidence Hub for ECED in Emergencies. This platform will offer tools, resources, and guidance to assist grassroots practitioners in effectively implementing ECED interventions across diverse emergency contexts.