On 11 October 2020, the world celebrates the International Day of the Girl Child. The theme this year is 'My Voice, Our Equal Future'. Coronavirus is putting girls and their futures at risk. Girls' rights are at risk – from missed education and the increased threat of early marriage, early pregnancy, gender violence, to harassment and online abuse. Plan International UK reported on these risks recently: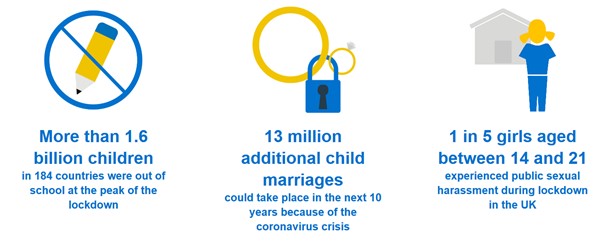 This year we stand with girls across the world by helping to amplify their voices and stand up for their rights. In 2020, we commemorate 25 years since the adoption of the Beijing Declaration and Platform for Action – the global agenda for advancing the rights and empowerment of women and girls, everywhere. This built on the 1979 Convention on the Elimination of All Forms of Discrimination Against Women. Generation Equality was also launched by UN Women in early 2020 as a multi-year, multi-partner campaign and movement for bold action on gender equality, focusing on the needs and opportunities of adolescent girls and their solutions.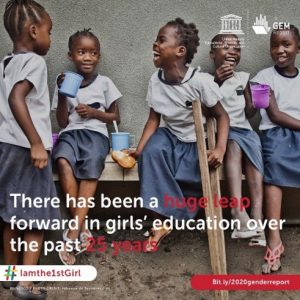 To mark this special year, UNESCO have just released: A new generation: 25 years of efforts for gender equality in education. Building on the 2020 Global Education Monitoring Report on Inclusion and Education, this report investigates how inclusion in education can advance gender equality in and through education, which is critical to making progress towards gender equality in society.
UNICEF has also launched their annual campaign with girls to amplify their voices and stand up for their rights. Under this year's theme, 'My voice, our equal future', they are encouraging us all to seize the opportunity to reimagine a better world inspired by adolescent girls and focusing on their demands to:
Live free from gender-based violence, harmful practices, and HIV and AIDS
Learn new skills towards the futures they choose
Lead as a generation of activists accelerating social change
The UKFIET community have published several blogs on issues relating to girls' education over the years, and we expect more to be published soon. Here is a selection of some of these articles, but we encourage you to keep checking back on our website for more news from across the education community, as we work together to try and rebalance the losses in girls' education as a result of the COVID-19 pandemic with the gains made pre-pandemic.
Transformative political leadership for girls' education
Many girls won't go back to school when lockdown is over
How Government Can Support Learning During School Closures in Nigeria: No More Missed Opportunities
Reflections on Support Available for Vulnerable Students in Ethiopia
Education Disrupted, Education Reimagined
5 actions to help bring the most marginalized girls back to school after COVID-19
How to protect vulnerable children, especially girls, during the COVID-19 pandemic?
Beyond numbers: achieving gender equality in education #DontIgnoreHer
Tackling gender norms offers hope for girls' education in low- and middle-income countries