This blog was written by Dr Margaret Ebubedike, Post-doc Research Associate at the Open University.
The global pandemic will significantly back-track all global efforts on the commitment to the realisation of the Sustainable Development Goal (SDG) 4 which aims to " ensure inclusive and equitable quality education and promote lifelong learning opportunities for all."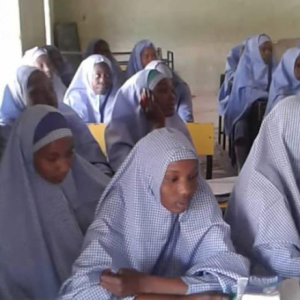 While the long-term effects of these disruptions are difficult to estimate, clearly, the impact of the pandemic will affect boys and girls in different ways. Nevertheless, the impact on girls' lives in low-income contexts, will be long lasting and significantly severe (Akmal, Hares, and O'Donnell 2020). Some children will, eventually catch up on missed learning. Evidence from the Ebola crises suggests that others, especially girls, in low-income contexts may eventually discontinue due to the persistent inequalities that affect girls differently in these contexts – and this will have a further impact on their economic empowerment, lives and wellbeing (Burzynska and Contreras 2020).
The consequences are even more severe for marginalised girls in north-east Nigeria who are confronted with several complex and inter-dependent barriers to accessing education, including gender, age, religion, child marriage and family economic status. In addition, more recently, girls there have been confronted with an armed conflict situation resulting from the Boko Haram insurgency, which added another layer to the already dire educational situation of girls in this region (Abayomi 2018; Isokpan and Durojaye 2016; Okafor 2010).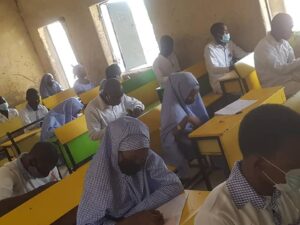 Girls here, often fall through the cracks of different educational polices and/or are explicitly excluded in national and regional education provisions. Without additional support to help these girls catch up, they would be left behind and unable to progress with their education and/or skills for lifelong learning (Ogbe 2020).
Some national governments and education stakeholders have responded swiftly to continue children's learning, using various remote learning delivery channels, including digital tools, TV/radio-based teaching and take-home packages for parents and caregivers (Dreesen et al. 2020). Although this will help to mitigate the risk of loss of learning, Jena (2020) points out that uptake will depend largely on the level and quality of digital and internet access and availability of technological devices).
According to the Digital 2020 Global Overview Report published in January 2020, about 60 percent of Nigerians are not connected to the internet. The statistics for mobile phones, which could also be used as a learning medium, are more hopeful – according to the report, around 169.2 million people (83 percent of Nigerians) have access to mobile phone connections. However, of these, 50 percent (around 84.5 million people), reside in urban areas. For the population with access, the proportion would be skewed towards high socio-economic households and urban households – an overwhelming majority of whom are children from wealthier backgrounds who already have a learning advantage over children from economically disadvantaged homes (Baum and Riley 2019). Obiakor and Adeniran (2020), emphasise that children from poorer backgrounds who reside in rural areas, are more likely to experience limited access to internet connectivity, computers, and other devices for remote learning.
Inequity in access to ICT-based learning, has the adverse effect of further intensifying existing inequalities in learning outcomes along socio-economic lines and an urban-rural divide. This is likely to have detrimental consequences for children living in poverty, particularly for marginalised girls in north-east Nigeria, as they would continue to fall further behind.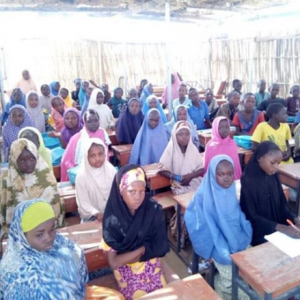 The UN has adopted radio education transmission in Borno state, north-east Nigeria, for learning continuity. However, the recent insurgency resulting from Boko Haram attacks had already weakened the education uptake in this region (Bertoni et al. 2019), especially for girls. Therefore, listening to radio educational programmes alone, may not mitigate the learning already lost pre-COVID-19. While radio is by far the most common way marginalised girls in north-east Nigeria could continue learning, it is also important to consider that, digital radio delivery channels still require electricity or batteries. Purchase of batteries is an extra expense for families already in poverty, and the inconsistent electricity supply in Nigeria makes it difficult for children relying on electricity powered radios to continue learning.
More so, language barriers are also a major hinderance, as most of the programmes are recorded in English. Children in rural districts will struggle to understand the fast-paced spoken English on the radio and tv teaching programmes.
Clearly, the school closures have laid bare the uneven distribution of education and the inequalities that exist in the education system in Nigeria. School closures have also uncovered the inadequate commitment to support teachers and caregivers in the educational uptake of children, particularly those from marginalised groups in Nigeria. The immediate consequences of the pandemic might present complexities that are difficult to negotiate, however, lessons learned from this crisis, could open a new way of 'thinking' education in Nigeria.
Key recommendations for education policymakers in low-income countries for COVID-19 and beyond include:
Education systems need alternative and equitable plans for safe and effective learning in the event of school closures. Producing accessible digital, media and printable resources based on the curriculum will not only allow a quicker response, but their use in ordinary times can enrich learning opportunities for children in and out of school.
Investments are needed in initiatives that can activate access to learning support networks, increasing options for remote learning delivery and speeding up response during school closures, particularly, where there is limited internet access.
Teacher training should now include management of remote learning initiatives, tailoring follow-up sessions with caregivers and effective blending of available technology into lessons.
Research is needed for learning and sharing what works in supporting children's learning during lockdown; this will help in developing practical ways to improve teacher training, content production, and parental-community engagement in promoting learning during school closures.
Understandably, large inequities exist in access to internet, particularly in low-income contexts. However, national governments should increase access to digital content for children where possible and go into negotiations with network providers to avoid charges on data costs for education content. One emerging evidence from the present crisis is the need to embed more technology into the classroom.
Photo credits: Swift Relief Foundation