Day 1
We were pleased to have as our opening keynote speaker, the Hon. Dr Yaw Osei Adutwum, Deputy Minister for Education in Ghana. Dr Adutwun spoke about Ghana's journey to an inclusive education system. He has played a significant role in transforming this system, drawing on his vast knowledge and experience from the USA where he ran schools that transformed the lives of many disadvantaged students.
In his keynote speech, he highlighted the practical challenges of making education systems more inclusive, solutions that have been tried, and new challenges for education leaders, researchers, policy makers, and practitioners to address. Dr Adutwum used his address to set the tone for discussions and debates at this year's conference.

Nafisa Baboo talks about Inclusive Education 'Lost in Translation' – Summary of UKFIET 2019 Opening Plenary Told in Tweets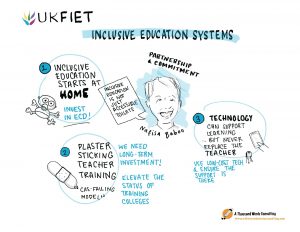 Nafisa Baboo was our second keynote speaker in the opening plenary. She is the Director on Inclusive Education for Light for the World. She is a qualified speech-language therapist and audiologist, with a Masters in Inclusive Education focused on the inclusion of blind students in regular schools.
Nafisa used her keynote address to remind everyone of the fallacies of inclusive education and asked 'How do we make Diversity the norm?'
One of our conference participants, the talented Dulce Pedroso, from A Thousand Words Consulting, summarised the keynote through a graphic illustration.
Day 2
Anna Robinson-Pant, Chair of BAICE, gave the plenary keynote presentation on Day 2 of the conference. She took the opportunity to explore inclusive education and learning through creative approaches to storytelling. Actors from the Mandala Theatre Company in Oxford got up to tell a set of diverse stories at various points during the plenary.
Anna's research team was examining understanding of inclusive education systems across the very different contexts of Ethiopia, Nepal and the Philippines. Workshops were held in each country and video clips are featured here from each. The actors at the conference brought to life some of the experiences of in-country workshop participants or their research subjects.
Day 3
Andria Zafirakou, teacher of arts and textiles in London, and Global Teacher Prize winner in 2018, presented her school's journey to becoming an inclusive school in the final plenary of the 2019 UKFIET conference. Andria teaches at Alperton Community School, a secondary school academy in the inner city borough of Brent. Brent is one of the most ethnically diverse places in the UK and 130 languages are spoken in its schools. Its pupils come from some of the poorest families in Britain.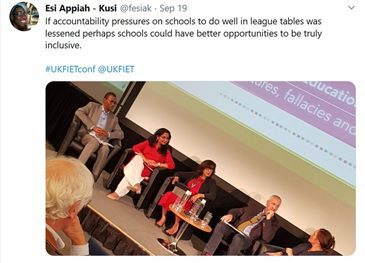 The final panel of the 2019 UKFIET conference closed with a panel discussion. Panellists reflected on the conference, and gave their perspectives on how education systems globally can become more inclusive. The panel consisted of:
And was chaired by Ritula Shah, BBC.
This year we were very lucky to welcome a new UKFIET conference participant. As the Twitter messages started rolling out, summing up key points from the conference sessions, we started to notice some visual storytelling being created. So we contacted Dulce Pedroso, the artist from A Thousand Words Consulting, and with her permission, we shared her works of art on this page of the website.