Urgent action is needed by governments and leaders across the sector if education is going to play its part in achieving climate justice. In the week before COP27, this was the clear message that emerged from climate activists, policymakers, NGO staff, academics and donors from across the globe at a recent conference held in London and online. The conference was convened by UKFIET to create a space for critical and constructive dialogue between a wide range of actors to engage with climate justice and the role of education.
Education and climate justice
Many populations have been experiencing the effects of "climate change" since the 15th century. However, the impact of human-induced climate injustices is increasingly being recognised in more recent times. It is leading to weather and climate extremes, and affecting human society and development – especially among people who have contributed least to emissions.
This week, the latest UN Climate Change Conference of the Parties (COP27) will take place to agree coordinated actions to accelerate climate change mitigation and minimise future global warming. Global partnership is essential to effect meaningful change, and yet the global majority, who are disproportionately affected by climate change, are still not being heard at global and national fora. The likely outcome is that global efforts to tackle climate change will further entrench existing injustices and inequalities.
Education can help mitigate the impact of the climate crisis by enhancing climate justice literacy and promoting behaviour changes necessary to adapt to climate change and limit future global temperature rises. In advancing these recommendations we are mindful that education alone can not compensate for the ecocidal political and economic system that sees 'the richest 1 percent emit more than twice as much CO2 as the bottom 50 percent of the world driving climate injustice throughout 2020 and 2021 that has contributed to wildfires, floods, tornadoes, crop failures and hunger' (Oxfam, 2022).
With this important caveat in mind, what practical steps need to be taken to embed climate justice into education policy and programmes, curricula and pedagogy?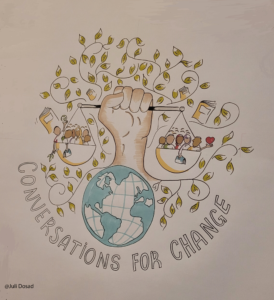 Conversations for Change
Conversations for Change: The Future of Education for Climate Justice was a one day conference  (November 2nd 2022) hosted by UKFIET to provide a space for critical and constructive dialogue. The hybrid format enabled activists, NGOs, practitioners, policymakers, academics and donors from across the globe – including where the crisis is most intense – to gather. We heard powerful stories from activists in India, Pakistan and Mauritius, who brought to life the urgent need for action. We also heard from researchers in Kenya, Nepal and England who provided valuable insights into how education is already seeking to address the need for climate justice – and the challenges that remain.
All of this framed an afternoon of workshops that sought to identify actions that we can collectively take: quick wins, urgent and most impactful. Informed and inspired by the morning's presentations, grounded by real life experience from the front line of the crisis, and equipped with reflections from participants, each group considered a different aspect of education systems in detail.
Call for action
The workshops have informed the following call to action:
1. Policy
We call on national leaders to: 
Include education in national climate change policies, strategies and action plans, ensuring they reflect national and global responsibilities for climate change adaptation and mitigation.

Education actors must be involved in shaping these policies. All ministries should be guided by this policy in implementing relevant responses, to promote joined up, harmonised policy action. Policies should acknowledge the intersectional challenges of climate change and differential impact on different groups, particularly the most marginalised.

Create opportunities for diverse communities to influence policy responses to the climate crises

,

especially people who are most affected by climate change.

These groups should be involved in ways that are sensitive to their modes of communication and consultation (rather than formal policy-making models) and should include continuous, regular engagement. These groups may include learners; indigenous peoples, climate change activists, experts, scientists; teachers; and community elders. 
We call on Ministers of Education to: 
Allocate funding to expand climate justice education

and to make

improvements to infrastructure to build resilience

to the effects of climate change.

 
Reform educational models to expand conceptions of the 'how', 'who', 'what' and 'where' of education

:

Restructure the education system away from high stakes approaches to accountability

which privilege a narrow perspective of knowledge, reinforce a utilitarian approach to education, and promote competition over collective responsibility.

Recruit teachers who bring a diversity of knowledge, experiences, and expertise into the formal school setting.
Reform initial and continuing teacher education to make education for climate change mandatory

from Early Childhood Development (ECD) onwards, integrated into existing subjects. Apply the same transformative pedagogies that teachers are being asked to use in their own classrooms, as outlined below. 

Recognise that climate change education requires experiential learning

. Alternative approaches to schooling offer valuable models for collaborating with community partners and bringing learners into other settings to learn about climate change. 

Link climate change education with existing and future mental health strategies

in education. Learners, teachers and administrators are affected by eco-anxiety.
2. Curriculum, content & pedagogies
We call on Curriculum Developers, Principals of Teacher Training Colleges and Head Teachers to: 
Promote climate change education by making space for this topic

in existing and future curricula and teaching schedules at all phases, starting with ECD, and including lessons across disciplinary boundaries.  

Frame climate change education around sustainable lifestyles rather than avoiding climate change disasters

. A more positive framing can empower people to experience agency and make positive changes.

Recognise that environmental education must include a political and temporal frame

, generating critical awareness among learners of root causes of climate change and the impact of different public policy and economic decisions.

Ensure that local education authorities and/or schools have opportunities to adapt the curriculum

to address local climate change impacts. This may involve community collaborations, for example with indigenous groups, for co-produced teaching and learning.

Promote pedagogies that are interactive, encourage problem-posing

, are practical, playful, creative and offer positive hope and actions. 

Consider alternatives to examinations to assess what learners know

, understand and do in relation to climate change education such as collaborative assessments. 
3. Space for local communities & diverse voices
We call on head teachers, teachers, community leaders and local activists to:
Listen to children and young people about their concerns

and empower them to take actions they judge to be important and relevant to them.

Collaborate together so that the school curriculum is adapted to and recognises local knowledges

, livelihoods and concerns.  This may mean working with communities most impacted by climate change to enable learners to access school and learn knowledge and skills relevant to their communities.

Ensure learning resources for climate change education represent diversity

with regard to gender, bodies, ethnic and racial diversities, neurodiversities and urban/rural contexts
Encourage learning to also take place outside the formal classroom

in green spaces and  urban safe spaces.
4. Communicating education for climate change  
We call on Curriculum Developers, activists, NGOs and academics to:
Elevate the importance of education in all conversations

regarding climate change. This includes climate change activists and experts prioritising education in communications.

Make materials accessible and inclusive

: curriculum content should be in the majority local language, multimodal in format, use Augmentative and Assistive Communication (AAC) modalities, and be open and freely available.

Use social media and SMART phones to transmit, share information and support coalition building

to 'meet young people where they are, on their phones'

Share examples of good practice

in education for climate change widely through multiple modes and platforms.
Join us
Over the coming weeks we will be reflecting further on the rich discussions that took place at the conference.
Further outputs from the day will be posted to a dedicated page on the  UKFIET website. If you would like to add your support to this call to action, please add your name using this form, and we will add you to the list of supporters at the end of this blog.
Swadeka Ahsun
Salim Akoojee, Freelance Research Specialist
Esi  Amonoo-Kuofi
Yakubu Anas, Managing Partner, Yusfah General Services
Helena Anderson
Aaron Benavot, Professor, Global Education Policy, University at Albany-State University of New York
Norbert  Bolla, Lecturer, National Teachers College Mubende in Uganda
Rachel Booth
Rachel  Bowden , Research associate, Centre for Teacher Education, TU Dresden
Mary Brydon-Miller, Professor, University of Louisville
Alison Bukhari
Donna Comerford, Postgraduate Research Student, University of Sussex
Olivia Copsey, MRes Student, University of Bath
Debojyoti Das
Estelle Day, Senior Advisor, World Education
Alba De Souza, Secretary and Trustee, Council for Education in the Commonwealth
Ben Durbin
Susan Durston, Chair, Child to Child
Cathy Dzerefos, Lecturer, Tshwane University of Technology
Christelle Noelle Dzesse Tekouo
Md Shaikh Farid, Associate Professor, University of Dhaka
Jane Fisher, Programme Leader, Centre for Alternative Technology
Abiy Menkir  Gizaw, Researcher and Teacher, Bahir Dar University
June Gorman, Educator, and Educational Theorist, Founder of the Transformative Education Forum (TEF-Global.org)
Camilla Hadi Chaudhary, Doctoral Researcher, University of Cambridge.
Ra Harris
Yvette Hutchinson
Geraldine  Hutchinson
Eucharia C. Igbafe
Odaudu Ijimbli
Olugbenga John, Editor, School Connect Magazine
Laila Kadiwal, Lecturer, IOE-UCL
Yunjeong Kang, Postgraduate student, University College London
Dima Khazem, Lecturer, IOE, UCL'S Faculty of Education and Society
Ashley Kuchanny
Stephen Lee, Program Director, Kadesh International
David  Levesque, Education Consultant, Ex. DFID education advisor
Abdoua Mainassara, Coordonnateur national, Contribution à l'Education de Base
Meaghan  Malloy, PhD Candidate, IOE, UCL's Faculty of Education and Society
Kevin  Martin, Centre Manager, Digital Education Futures Initiative, Hughes Hall, University of Cambridge
David Masua, Executive Director, Windle Trust International
Henok Meshesha, Specialist , training implementation, Ethio-Djibouti railway standard gauge share company
Lizzi Milligan, Reader, University of Bath
Aramaki Moemi, Student, University of Sussex
Manjuma Akhtar  Mousumi, Assistant Professor, BRAC Institute of Educational Development, BRAC University
Anesh Mungur, Climate Activist, Fridays for Future Mauritius
Avinesh Narayan, Teacher and a counsellor, Ministry of Education Fiji
Katy Newell-Jones
Constance  Nyamikola, CEO, Tororo Youth Initiative for professional Development
Anupam Pachauri
Mohan  Paudel, Associate Professor, Tribhuvan University
Enrique Pieck, Academic Researcher, Universidad Iberoamericana/Ciudad de México
Maria Pulman
Tooba Rauf, MPhil Education Graduate, University of Cambridge
Syed Farrukh Raza, Principal, HPS
Juliana Sofía Riaño Sánchez
Samantha Ross, International Programme Director, Link Education International
Bharat Rout, Research consultant, University Grants Commission
Dr Sam Rushworth, International Education Consultant
Nandita Sengupta, Student, University of Sussex
Shameem Singh, Principal, City Montessori School Rajendra Nagar 2, Lucknow, India
William C. Smith, Senior Lecturer in Education and International Development, University of Edinburgh
Catriona Spaven-Donn, Climate and Gender Mentor, UN House Scotland
Terra Sprague, Research Associate, University of Bath
Marisol  Tello Almela
Chinazo Umenwobi
Maria Vamvalis, PhD Candidate, OISE, University of Toronto
Tom Vandenbosch, Global Director of Programmes, VVOB
Inge Vandevyvere, Global strategic education advisor, VVOB education for development
Acquilina Wafula
Fadimata Walet Inorene, Education Technical Advisor, CARE USA
Esther Williams, Volunteer, Do Take Action organisation
Kelly Worwood, Technical Advisor – Education, Plan International UK
Yuwei  Xu, Assistant Professor, University of Nottingham
Qiaohui Xue, PhD student, University of Nottingham
Hassan Yaro, Executive Director, Cardinal Aid Development Support Initiative
---
You can read other content on the UKFIET website relating to climate change and climate justice here.