This blog was written by the Inclusive Futures: Promoting disability inclusion team and was originally published on the Inclusive Futures website in April 2022. The work is part of the UK aid funded Disability Inclusive Development programme. Staff from Inclusive Futures partners Sightsavers and Humanity & Inclusion will be joining a panel at the April CIES conference to present on 'Inclusive education throughout the COVID-19 pandemic: approach and emerging findings from an innovative multi-country inclusive education programme'.
As Inclusive Futures moves from testing innovations to delivering development programmes at scale, our inclusive education programme in Nepal is helping children with disabilities return to school.
Sandip (pictured above) was 14 years old when he lost his left leg in a road traffic accident in Chitwan, Nepal. For Sandip's parents, investing in their son's education had always been a priority, but their income – like that of many other families – was hit hard during the COVID-19 pandemic.
Following his accident, Sandip dropped out of school and his limited mobility left him feeling unmotivated and isolated. "Having lost my leg, I was ashamed to go out or go to school – I didn't see myself going anywhere as I couldn't walk," he said. "As a result, I started staying home and cutting myself off from the outside world."
Things started to change when Sandip was invited to attend a health screening camp in his community, where he was referred to the National Disabled Fund (NDF) for rehabilitation.
Sandip was fitted with a prosthetic limb and, over the course of two weeks, received counselling and gait training to develop his strength and give him the confidence to move around independently.
Ramesh Baral, inclusion officer for Humanity & Inclusion, describes the transformation he saw in Sandip: "Initially when we met Sandip, he wasn't convinced he wanted to receive the rehabilitation care – he didn't trust anyone." But through counselling, they were able to show Sandip the opportunities available to him to realise his potential.
Sandip has since returned to studying and wants to complete his education. "I must study hard so I can get a job and become independent. I have to turn my dreams into reality," Sandip said. "Training to walk with my new limb is hard work and sometimes painful, but I am confident that after it all, it will be OK."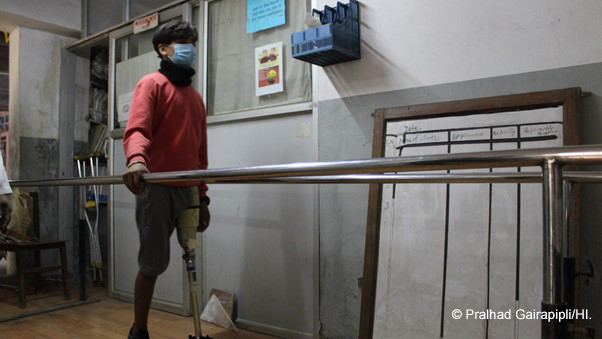 Accessible learning and education
As Sandip's story shows, children with disabilities can struggle to attend school. They face a number of barriers, such as not having accessible transport, facing stigma and discrimination, and not being able to access learning environments that support their specific needs.
Through the UK aid-funded Inclusive Futures Disability Inclusive Development programme, we work to tackle these issues to ensure children with disabilities, including those with multiple disabilities and other learning support needs, can go to school.
We are also:
working with local authorities and organisations of people with disabilities (OPDs) to improve how they collect and use data so they can identify children that need support – especially if they are not currently attending school
providing assistive devices and technology
training teachers in inclusive teaching methods
supporting the use of inclusive assessment tools.
Together with our partners, we develop evidence of what works to make school systems inclusive and increase the number of children with disabilities in education.
From innovation to scale
Inclusive Futures aims for more children and young people like Sandip to realise their potential and live the lives they want without facing barriers.
Over the next three years, we will build on lessons learned through testing innovations, and concentrate on larger, longer-term projects in Africa and Asia. Nepal is one of three countries, along with Bangladesh and Tanzania, where Inclusive Futures is building on initial pilot projects to deliver education programmes that are inclusive of children with disabilities at scale.
Inclusive Futures programme director Johannes Trimmel explains why this is a significant moment: "Building on the innovations we've tested so far and transitioning into delivering programmes in education, health care and work at scale is an important step. By focusing on a smaller number of larger projects, and by continuing to use what we learn to produce evidence of what works and doesn't work, we'll create pathways for inclusive development that can be applied elsewhere – increasing our impact. In this next phase, my hope is that we'll start to see people with disabilities being included systematically in development programmes."
In Nepal, Inclusive Futures partners Humanity & Inclusion, Leonard Cheshire and Sense International will build on learnings from the project that supported Sandip. They will focus on strengthening inclusion throughout education systems and services to ensure children with disabilities can access and benefit from the same quality education as children without disabilities. The evidence that the project generates will help inform the work of OPDs and local, district and national governments as they plan, budget for, and put in place large-scale inclusive education programmes that consider the needs of children with disabilities from the outset.