The biennial UKFIET Conference takes place 13-17 September 2021. The theme this year is 'Building Back Better in Education and Training: Reimagining, Reorienting and Redistributing'.
The programme is now available along with details of the keynote speakers and format of the week. We are excited to announce that our keynote speakers will be:
Please register by 6 September. We are asking delegates to register in advance to allow the week before to set up their profile and familiarise themselves with the conference platform. You will be able to watch pre-recorded presentations, and connect with other delegates.
What can you expect from the conference?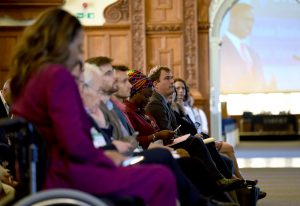 This article written by the Chair of the UKFIET Trustees and conference Chairs reflects on the planning for the first virtual UKFIET conference, with details on the cost structure:
Reimagining, reorienting and redistributing the UKFIET Conference
Here, the Conference Chair discusses the conference theme and her hopes for the discussions and outcomes of the event:
Building back better in education and training? Contested punctuation
In this article, our Conference Diversity and Inclusion Officer discusses how we have aimed to include diversity in the conference criteria:
Parental Advisory: Contains explicit expectations. Working together for transformation at the UKFIET conference
Following the opening keynote presentations addressing the overall conference theme, the first session of the conference aims to share learning and research by early career researchers and practitioners. This article gives an overview:
Early career researchers and practitioners – first session at the 2021 UKFIET conference
What can you expect from the themes of this year's conference?
There are six themes under the overarching 'Building Back Better in Education and Training' theme.
The convenors of each theme have highlighted their thoughts and expectations on what excites them about their theme, how it links to the overarching conference theme, and what kind of sessions and papers we can expect from their theme.
These highlights are available here:
See you there!
Although it will be a shame not to meet in person in Oxford this year, we hope that holding the event online will allow for more people to participate, especially those who may not have otherwise been able to travel. Sessions will all be recorded and participants will have a whole month to watch them.
We know from feedback that the value of our conferences is through the opportunities to connect with others – both informally and formally. As well as the formal sessions, there will also be plenty of opportunities for virtual networking. You will be able to join discussions instigated by others, as well as suggest ideas yourself.
You will also be able to meet our sponsors and exhibitors in the market place where you can chat with them live and learn more about their work.
The world has changed so much since our last conference in 2019 and there are so many new challenges for global education. We encourage everyone to make the most of these opportunities and keep the conversations going through meeting new colleagues.
​Thank you to our Sponsors: