This blog was written by Amy West, Senior International Technical Advisor, Education Development Center. A new report by the Inter-agency Network for Education in Emergencies (INEE), seeks to answer the question of where we are now, monitoring progress in girls' education in its broadest sense since the signing of the Charlevoix Declaration. This blog was originally published on the Global Partnership for Education (GPE) Education for All blog on 10 June 2021.
Adolescent girls need our attention now more than ever. While solid gains have been made in education enrollment, adolescent girls' retention and completion rates fall far short of any desirable outcome.
Several factors are at play, and for years now, we have identified and documented these: abuse, exploitation, sexual and gender-based violence, harmful social and cultural norms such as child marriage, early pregnancy, female genital mutilation, domestic servitude and other forms of child labor as well as poverty.
These factors are exacerbated in crisis, fragile and conflict-affected contexts. We know there is rarely one particular barrier that adolescent girls face, but more often than not overlapping and complex vulnerabilities.
So, where are the large-scale interventions designed specifically to defeat these inequities?
At a policy level, the 2018 Charlevoix Declaration is a valiant effort to close the yawning gap around adolescent girls' education and training needs. It promotes inclusive, quality, equitable education for girls, adolescent girls, and women in developing and crisis-affected contexts.
The Declaration represents a commitment from G7 leaders to build partnerships, improve coordination, prioritize investment, and monitor the progress of existing gaps in gender equality. It recognizes that access to learning and technical skills training for girls and women is fundamental to the fulfillment of human rights, social development, and economic growth.
The Declaration represents a collective will among donor governments, international organizations, and implementing partners to adjust the lens and pull girls and women into sharp relief. Refreshingly, its language explicitly calls out adolescent girls, making them—and the unique challenges they face—visible, distinct, and worthy of their own consideration and targeted investments.
So where are we now, almost three years after the promises made in Charlevoix?
The state of adolescent girls' education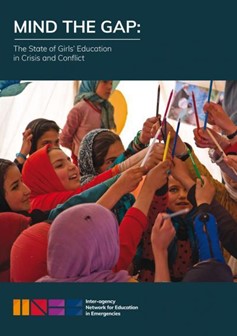 Where policy meets implementation, indeed, the picture is a sobering one, despite our best intentions.
Mind the Gap: The State of Girls' Education in Crisis and Conflict, launched today by the Inter-agency Network for Education in Emergencies, seeks to answer the question of where we are now, monitoring progress in girls' education in its broadest sense since the signing of the Charlevoix Declaration.
A look at the data indicates that, prior to COVID-19, girls were on track to attain 100% completion of lower secondary education by 2063, 33 years after the SDG deadline.
We can only assume that completion for higher secondary education or tertiary education extends further out than that.
Then as well, UIS estimated 129 million girls are out of school. Since COVID-19, at least 11 million more have dropped out and may never return due to the consequences of the pandemic: increased household poverty and burden on domestic work and unpaid care, heightened vulnerability to gender-based violence, risks of early pregnancy or early marriage, and lower access to technology resulting in learning losses.
A way forward
Mind the Gap lays bare the evidence: We must work harder to invest more in adolescent girls specifically and to better coordinate our responses to the complexity of their realities if we are to achieve equity, learning and livelihoods outcomes in crisis and conflict contexts. The report underscores the imperative of girls' and women's access to education at any age.
In particular, however, it highlights how the world has rendered adolescent girls even more invisible and why we urgently need changed mindsets and fresh approaches to keep adolescent girls engaged in education and training.
This clarion call to understand that the safety and well-being of our planet is inextricably linked to the positive development and protection of girls, in particular of adolescent girls, is critical in driving policy advocacy towards large-scale strategic and responsive action. A few key data points from the report support this argument:
If all girls completed secondary education, it would result in virtual elimination of child marriage and a 75% reduction in early childbearing. Further, each additional year of education increases a woman's earnings by 10–20%, enough to buy food, access health care and medicines, and pay for school fees.
Moving towards coordination and scalable interventions
Mind the Gap illustrates both the virtuous and the vicious cycles of education and protection for girls. Augment the critical correlation between the two, and we will see greater outcomes for completion and retention rates, the strengthening of work-based learning and transferrable 21st century skills for existing and emerging economies, as well as achieve numerous other social and economic development goals.
Ignore the essential need for alignment, and we will continue to struggle towards any large-scale impact or sustainable outcome for girls, adolescent girls and women, thus also perpetuating the risks and vulnerabilities of many boys and young men.
Too often, international aid efforts in education and protection have pursued separate sector agendas, duplicating interventions and exacerbating gaps and inefficiencies. Where adolescent girls are concerned, efforts to alleviate poverty or to prevent early pregnancy or child marriage cannot be at cross purposes with specific and targeted efforts to expand learning and technical skills training opportunities for them.
And, given the imperfect realities of their world, adolescent girls should have more than one or two chances to achieve basic literacy and numeracy and learn a marketable skill.
It is critical to broaden investments in multidimensional programming that meet them where they are, even finding ways to circumvent seemingly unmovable barriers, so that those who have dropped out of school can still access and achieve a better, more hopeful and sustainable future.
Promoting a more hopeful future
Education for everyone is critical. But education for adolescent girls, wholly implicated in the perpetuation of human life and its survival, is imperative to break existing cycles of poverty, disease, conflict and crisis.
The Charlevoix Declaration has provided a bold roadmap for investment, partnership and coordination to increase quality inclusive education for girls, adolescent girls and women.
When we make adolescent girls more visible, when we value them enough to pull them into the center of the frame, and when we implement our interventions with them in mind, we benefit not just their futures but ours as well.