This article was written by Zain ul Abidin, Saba Saeed and Mehak Najam from Idara-e-Taleem-o-Aagahi (ITA).
The impact of the COVID-19 pandemic may be global but it is felt most strongly in rural areas of the Global South, in countries such as Pakistan. Here, limited infrastructure and health facilities often end up intensifying the effects. For instance, economic activity has witnessed a major downward turn and with the area already facing challenges, such as poverty and lack of work opportunities, the pandemic-induced lockdowns have now restricted day-to-day activities. In rural South Punjab, most income providers are daily wagers and are thus suffering the most. Districts that were already low on economic and development opportunities are now facing an unprecedented crisis.
However, in such sombre times, there are always stories that give rise to the unlikeliest of heroes. With the majority of families losing out on their primary income source, one group of girls have become the source of livelihood for their respective households during these times of crisis. In this blog, we explore how empowered girls can affect a positive change in their communities.
The Technical and Vocational Education Space (TVET) sector offers major opportunities for marginalised youth such as these girls. The right TVET interventions allow for change that is both wide-reaching and sustainable. Empowering marginalised groups with skill sets that have a high monetisation potential often results in improvement within family structures as well as subsequent economic evolution of communities.
The intervention we highlight here is the Siyani Sahelian (Wise Girls)/Advancing Action for Adolescent Girls (A3G) programme—supported by FCDO and implemented in 3 districts of South Punjab – Bahawalpur, Muzaffargarh and Rahim Yar Khan. The programme has a holistic framework in place to provide the target group with the best chance of creating a livelihood. Over 6,000+ adolescent girls have graduated from the programme with certifications from government and non-government bodies specialising in this space. The TVET segment of the programme saw the introduction of a customised skill-based element that had a wide range of TVET trades being taught to girls aged 15-22, belonging to the most economically disadvantaged groups.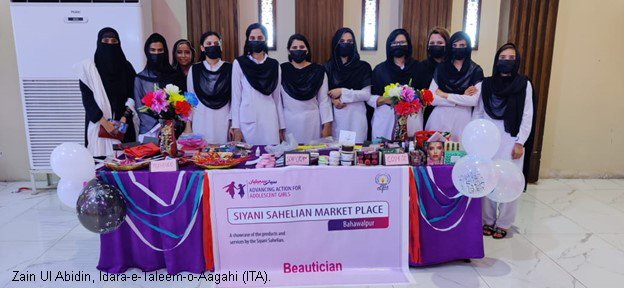 With a robust assessment pre-training that profiled each beneficiary at a micro level, as well as measuring the potential of various trades at all communities being targeted, the programme allowed for a more productive approach to meeting the specific problem sets of each beneficiary, each community and each district. It also led to a programme design that covered multiple bases when it comes to adolescent girls and their empowerment.
A3G introduced a diverse set of trades for the groups that ranged from indigenous skill sets to skills of the 21st century. So, at any given time for example, one set of beneficiaries was being trained on coding whilst another group was being trained on making traditional Khussa shoes. The trainers for the trades were from the communities themselves and allowed for the creation of workstations post-training. Some of the trades introduced included Kitchen Gardening, Khussa Making, Chunri Making, Poultry Farming, WordPress, Machine Embroidery, Beautician, and others. Advocacy and Soft Skills was a strong segment within the programme, aiming to ensure placement of the beneficiaries within the workplace and/or aid them in the creation of enterprises for themselves, their families and/or their contemporaries. 
Here are two examples of communities benefiting from this intervention.
From a place of disadvantage to generating an income for their families
Idara-e-Taleem-o-Aagahi (ITA) established a centre in Aman Garh, a small community located in the outskirts of Rahim Yar Khan. The populace comprises mainly of Hindu minority households. The women of Aman Garh take pride in their culture but lead a very constrained life. With decades of differential treatment, the community prefers to stay out of visibility and the women of Aman Garh hardly ever get to step out of their homes. The girls receive their education until primary level and are married off after, at a median age of 16.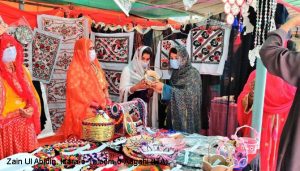 It was this community that was one of our target groups for running the ITA TVET centre. Over the course of 8 months, 90 girls were trained on the skill set of Ralli work and Handicrafts. After 8 months of investment on a beneficiary set that has been widely overlooked over the years, what we witness is a passionate group of girls who are making a living through limited resources with the skills they have mastered.
The girls have now created their shop within their homes and are making various products using the Ralli technique. The girls are receiving orders and are generating a meaningful income.
Siyani Sahelian playing their part in combating the effects of COVID-19. From school dropouts to learning 21st century skills
With the world changing fast, it is essential to learn new skill sets. The sad reality, however, is that access to learning 21st century skills has been concentrated and highly inequitable. ITA, in partnership with CIRCLE Women, set up a digital-based training for adolescent girls belonging to the lower-income group strata. Under this project, a high-functioning lab was set up and CIRCLE Women curated a curriculum adapted for the specific requirements of the girls.
The training was based on increasing computer literacy, internet usage, coding by using the medium of WordPress, and introduction to freelancing and subsequent virtual wage-earning opportunities. Before the training, these girls had little to no digital knowledge, with the majority never having used a computer before.
After a mere four months of training, these beneficiaries are now coding and earning through freelancing. The outcome of this segment is remarkable, with impact not limited to the girls themselves but also extending to their households and communities.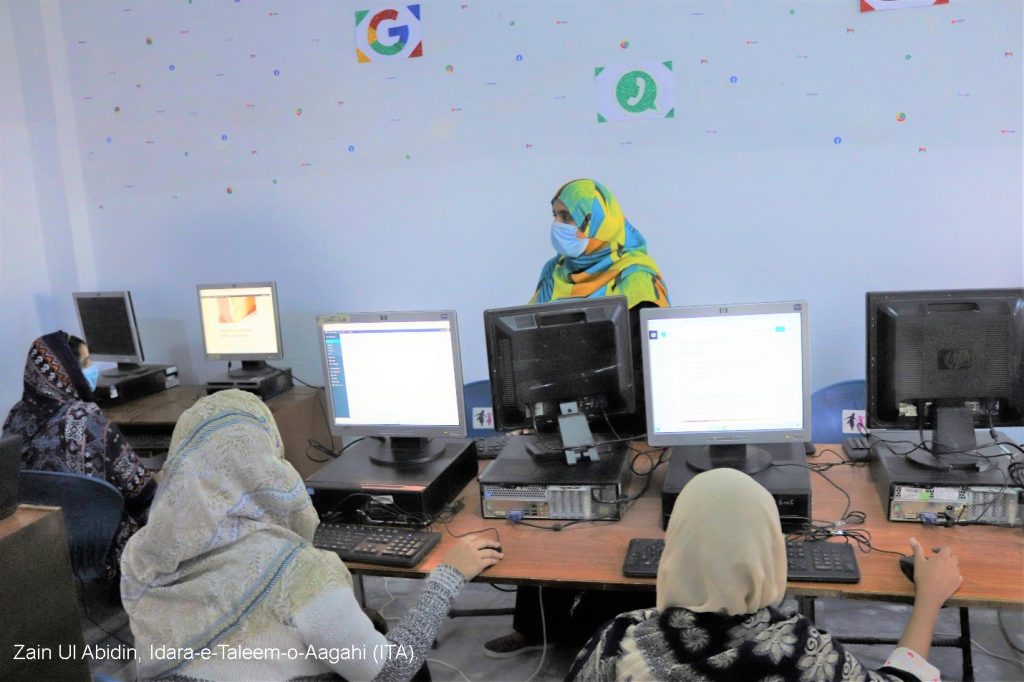 Conclusion
Within Pakistan, there is a burgeoning youth population as the country goes through a demographic transition. As the government itself recognises, there is a growing need to enable and equip this significant youth population with the requisite skills and competencies they would require in a 21st Century environment. This is more so the case for youth, and particularly girls, from marginalised regions and backgrounds.
These young Siyani Sahelian from South Punjab have inspired us through their work during and beyond the pandemic—from making face masks for remote communities, to creating awareness sessions in their community on different mental health issues—while not forgetting the plight of the underprivileged. In such strange times, we are glad to see such stories of resilience and entrepreneurial brilliance from the unlikeliest of sources and look forward to more 'iron ladies' not just supporting their families but also becoming solution providers. In time, we expect that this portion of the youth will serve as a model for addressing the upcoming demographic challenges that will emerge over the next two decades.