Final Plenary from UKFIET conference 2017: Told through Tweets
Prof Kwame Akyeampong, University of Sussex
Ann Cotton, Founder and President, Camfed
Gerd-Hanne Fosen, Norad
Nayla Fahed, Lebanese Alternative Learning
This final plenary panel aimed to share views from across different constituencies of the UKFIET community (academics, practitioners, policymakers, teachers, learners) on critical questions for research, policy and practice. Questions all related to the conference theme of learning and teaching for sustainable development, and were voted on by the audience through a series of polls using the 2017 conference app. The questions discussed were:
How do we balance reaching the most marginalised with most of the marginalised?
What changes are needed in policies, programmes and practices to address the economic insecurity that youth are facing globally?
How can curricula respond to local needs, like environment and conflict, and prepare students for an increasingly globalised world?
What types of evidence are needed?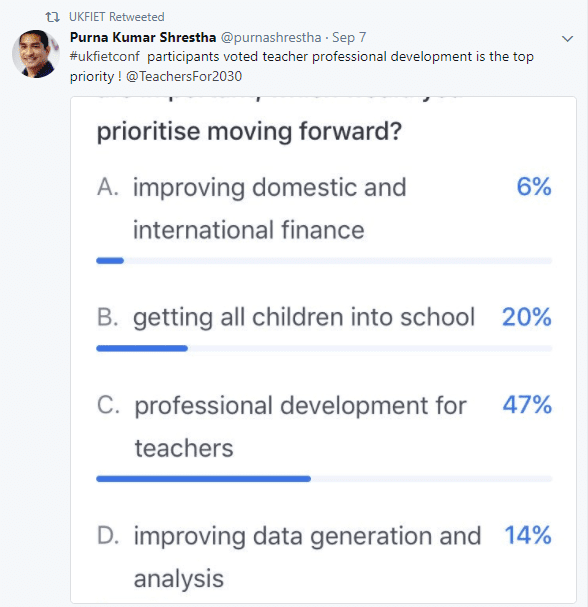 Gerd-Hanne's motivation is the girls she has met who would not have had opportunities otherwise. This coupled with the nightmare of 263 million children worldwide still not learning. We cannot choose one group to target because all children have the right to education. However, it is a difficult decision on how to distribute funds. Donors want to reach large numbers of children yet it is harder to capture the numbers of the most marginalised. Further research is needed on who these marginalised and most marginalised children are, how multiple forms of disadvantage intersect, and how we can count them more accurately. We also need to understand what sort of evidence we are gaining about teaching democracy and citizenship. And how do we address the fact that many economies are made up of informal activities, often to the tune of 80%?
​
Kwame addressed the changes that are needed: on the one hand, many young people have gained an education but are not finding job opportunities; on the other, students are being failed by the education system and also don't have jobs. "We have a responsibility to address the needs of those young people in a way that gives them hope". "We need to think carefully about the kind of skills we give young people so they can grow and adapt". How can learning create resilience? We need to ensure that education doesn't become a failed promise. Technology provides a great opportunity if we are creative. We need to leverage knowledge gathered from research into action for the most disadvantaged.
| | |
| --- | --- |
| | |
Nayla stressed the importance of acculturation – keeping one's own identity whilst adjusting to a new culture. Refugees are often currently asked to adapt to an imported curriculum that is not relevant to them. It is possible to borrow curriculum but also important to adapt to local needs. It is also important to address issues of certification for students. Teachers also need to be empowered with choice as they are the ones fighting to give students skills and making learning happen in difficult contexts.
| | |
| --- | --- |
| | |
Ann pointed to not enough attention being paid to the social and emotional experiences of students, beyond the cognitive. A higher focus is needed on the process of evidence gathering in the sector. The integration of programmes is challenging because of donor demands differing – we need to make the case for integrated data gathering, for example by better linking health and education. We also see resources which are there but not mobilised. For example, how do we mobilise religious leaders and chiefs who are the most powerful advocates for girls' education and against child marriage.