Closing speaker from UKFIET conference 2017: Told through Tweets
Malala Yousafzai, student, Nobel Laureate and co-founder of the Malala Fund
Our very special guest, Malala, closed the conference. Malala emphasised that girls can change their communities. The Taliban realised this and because of this, banned education for girls. There is a need to empower local leaders and activists to collaborate and support one another to bring about change.
Malala had earlier participated in the Malala Fund's Gulmakai Champions' workshop on 'supporting girls' secondary education in conflict settings'.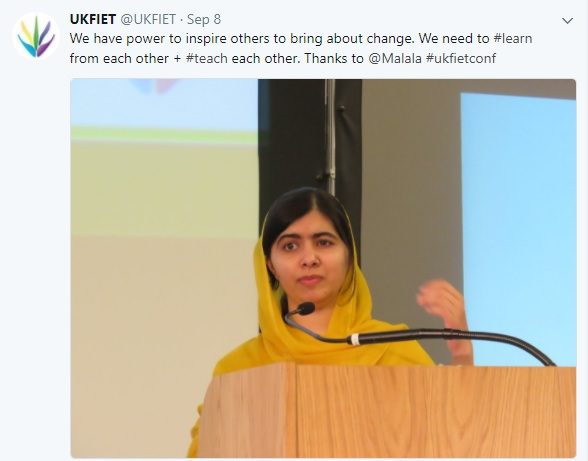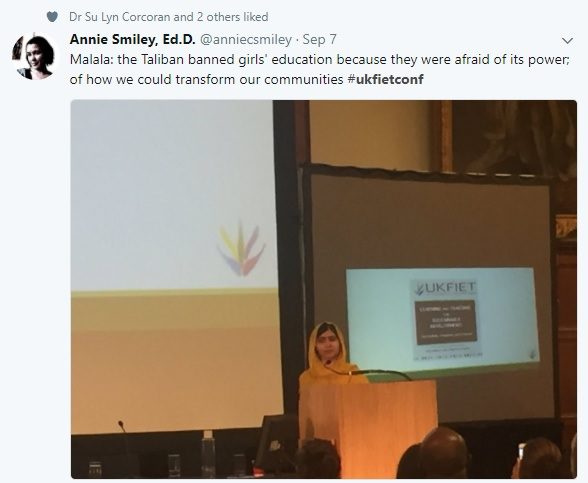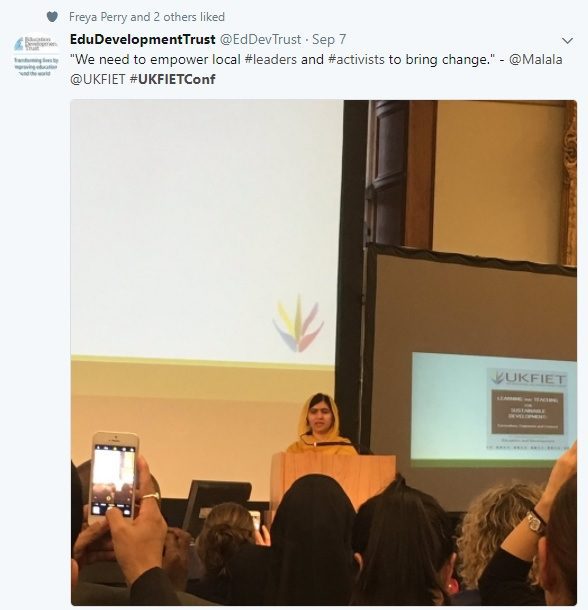 Ziauddin Yousafzai, co-founder of Malala Fund, teacher, UN Special Adviser on Global Education and Malala's father
Ziauddin was once asked, if he had a magic wand, what will he do with it? He believes education is a wand that has a magical power to transform communities and people. Education has changed him, transformed him, it has made him more human and given him values. He confirmed that he only had that opportunity because he was born a boy, unlike his five sisters. Girls' education is still a huge challenge.
There are two days which are important in life: the day you are born and the day when you know what you are born for. He had to choose to be a victim or be a fighter, he chose to be a fighter.
Teachers can inspire in a good or in a bad way. A quality education involves having a teacher and curriculum which can inspire. We need a collective strength, a collective effort from all of us. Girls' education is not just about learning Geography, Maths, Science – it is about emancipation.