This blog was written by Jane Mann, Director of Education Reform, Cambridge University Press. It was originally published on the Cambridge University Press website.
A New Reality for Education?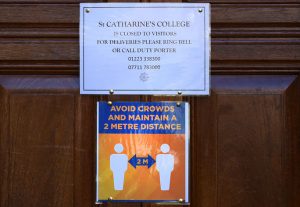 As I write this, my three sons are scattered around my house, stretching our internet connection to its limits, attempting to navigate school work set online but without live expert navigation from their teachers or input from their peers, in isolation from not only their classmates, but also the wider world. This feels very much like a moment whose effects will be felt throughout the rest of their educational lives, and they are far from alone. At Cambridge, we are privileged to be in partnership with governments all around the world, working to support their education systems, so we have had an in-the-room view on much that has been going on. I've been particularly struck by the impressive urgency and creativity that has characterised the global education response to the coronavirus pandemic. The challenge posed has been met with innovation and boldness by teachers, parents and education leaders, acting to not only protect learning during quarantine but generate new plans for their students' futures.
However, the extraordinary circumstances forced on learners and teachers by the current coronavirus pandemic pose a problem for those who are used to using evidence and research to inform their response to challenges in education systems. What works in a pandemic? Where should we look for lessons that can guide our reactions and support our decisions? Notwithstanding the valuable insights that have been gathered following the recent Ebola outbreak in Sierra Leone, there is a lack of robust evidence for what interventions or tools will be effective in ensuring learning can continue, due to both the unusual nature of the current crisis and the inherent difficulty of conducting research in these conditions.
There are, however, alternatives to relying on educational research that specifically examines responses to pandemics, lockdowns or quarantine. Education in emergencies (EiE) research is dominated by the study of displacement due to conflict and violence, but also addresses educational need in other conditions of displacement such as forced migration and environmental disaster. Elements of the current crisis resonate with the challenges of education in emergencies:
Students face disruption to their learning environment, their contact with classmates and teachers becomes highly fragmentary (if it is happening at all) and their access to learning materials is at best transformed and at worst removed.
They face breakages in their progression through curricula, with gaps created that can disrupt learning and achievement for the rest of their educational careers.
Assessments are inaccessible or delegitimised, undermining long-term security and expectations about outcomes.
Perhaps most troublingly, students and teachers face uncertainty and stress that can destabilise the emotional consistency and safety that schooling can offer.
So, given these consistencies, what are the lessons that can be learned from education in emergencies, and applied to the current crisis?
The Challenge of Fragmentation
In emergency contexts, an important obstacle to quality learning is maintaining continuity. Displacement often means trauma, chaos and uncertainty for learners and teachers. Access to schooling and resources is disrupted, resulting in an education reduced to fragmented and disjointed moments. Even when the quality of the learning experience can be maintained, the disconnect between past and future opportunities to learn undermines the coherence of curricula.
The Learning Passport
UNICEF, in partnership with Microsoft and Cambridge, has been developing the Learning Passport, a response to education in emergencies that addresses this key challenge and the needs of vulnerable learners. To inform the project, Cambridge conducted extensive research into what works when delivering education in contexts of displacement. One of our key findings centred on the role education plays in not only providing skills and knowledge that allow young people to flourish, but also the importance it holds in establishing continuity and aspiration for young people.
The curriculum frameworks in Maths, Science, Literacy and Social-Emotional Learning (SEL) that form the core of the Learning Passport aim to address this need. Each framework provides guidance to help curriculum writers to span the gaps that may occur in learning due to displacement. The tools in the frameworks allow teachers and educators to identify the core content that students need, provide a 'map' to guide them back into mainstream curricula, and consequently back into schooling systems.
The subject-specific frameworks are supported by an SEL component, built around a mental health and psychosocial support (MHPSS) approach. We found that although the children and young people UNICEF hope will benefit from the Learning Passport are living through some of the toughest conditions in the world, they consistently describe education as a priority: a review of 16 studies covering 17 different emergencies found that of 8,749 children, 99 per cent saw education as a priority. However, without the necessary support for their emotional wellbeing and mental health, they will struggle to learn. Cambridge's work on the Learning Passport created an integrated social-emotional learning programme that seeks to address the psychological effects of crisis and trauma, and provide the foundations onto which the broader curricular learning can be built.
Exploring digital solutions
Another area of our research that generated applicable findings for the current crisis looked at what learning materials could deliver the Learning Passport, and especially the potential use of digital solutions for providing displaced learners with resources. We found a wealth of platforms and technologies out there aimed at getting materials to those in remote, disconnected or otherwise underserved communities, though often these solutions were confronted with the same issues:
lack of necessary infrastructure (including internet connectivity and access to devices, but just as often stable electricity)
student and teacher unfamiliarity with the technology, and
inequalities in access and digital literacy.
There are some meeting these challenges head on, such as 'Kolibri', Learning Equality's offline content library, with its innovative 'seeding' approach to spreading across devices in Kenya, which previously operated out of the country's refugee camps. However, these challenges for delivering digital solutions persist, and as was found during the response to the Ebola outbreak in 2015, screen-based delivery of educational resources had limited impact compared to print and especially radio-based initiatives. Now that a greatly expanded cohort of learners must be reached during quarantine, the experience of delivering education in emergencies shows that there are fundamental limitations that currently constrain the effectiveness of digital solutions.
Overcoming Disruption
Students whose learning has been disrupted have very specific educational needs. We should be looking into how lessons from the development of the Learning Passport – and other work on education in emergencies – might apply to educating children returning following school shutdowns, and to improving the readiness of schools, teachers and education leaders in the future. There are three key areas where I believe there are lessons that our existing knowledge-base around education in emergencies can help us. These will not just help define our responses now, but also enable us to adjust and improve our systems after the pandemic is over, making them more resilient in the face of future crises.
Equitable digital learning
The first is digital and online solutions. Now that many school systems are operating almost exclusively through remote learning and using online platforms, there is a huge risk that those students who cannot access these technologies literally become invisible. Equitable digital learning means ensuring not only that students have access to the requisite technologies, but also that teachers are supported in using them equitably, and have the ability to adjust their pedagogy in ways that can provide differentiated learning for a potentially unfamiliar medium. Cambridge already provides professional development qualifications in teaching with digital technologies; it is my hope that the expanded need, use and scrutiny of this element of teachers' skillset can lead to new developments in pedagogy and an increased importance in teacher training.
Adaptive systems
Secondly, education systems will need to improve their resilience by becoming more adaptive and flexible in the face of increasing environmental crises such as pandemics. Doing so of course covers how we deliver education, for instance through remote or online learning, but also how we structure curricula and organise assessment and progression. In crises, contextualisation to what may be very specific needs are paramount, and can create tensions with expectations of uniform adherence to the curriculum or widespread, high-stakes testing. Education in emergencies research, as informs the Learning Passport curriculum frameworks, suggests where and how accommodation can be made in curricula and assessment to ensure learning continues without sacrificing quality and confidence.
The evolving needs of learners
Finally, in a global context of what looks likely to be increasingly widespread environmental and conflict-based displacement, the profile and needs of the young people and children our systems will educate will change. In this context, education systems must be able to provide continuity of learning for a student population that will increasingly include students who are displaced or otherwise mobile, and who will possibly unavoidably – receive their education in a fragmentary manner from multiple sources.
If the current pandemic indicates, even partially, what may become a 'new normal' for education systems around the world, that is a sobering thought. But the solutions for the challenges this will present are already being invented, developed, and tested, as long as we look widely enough for them.
The Cambridge team welcomes engagement from readers on this topic via a series of webinars we'll be hosting with global education leaders on Covid-19 crisis and responses to it. Register your interest here. Alternatively, please email: educationreform@cambridge.org.