This blog was written by Alfred Odour, Communication Development Officer for the Wasichana Wetu Wafaulu Project, led by Education Development Trust.
Why is it that some primary school girls get pregnant, deliver, go back to school and achieve excellent learning outcomes while others drop out and never go back to school?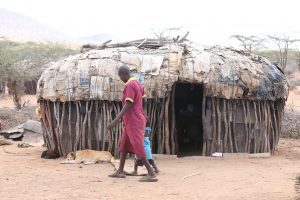 These were the central questions of a research project undertaken by Wasichana Wetu Wafaulu (Let all girls succeed) a six-year project in Kenya led by Education Development Trust and funded by UK Aid under the Girls' Education Challenge (GEC). It is designed to enable 70,000 marginalised girls in Kenya to complete their primary phase of education, achieve improved learning outcomes and transition successfully to higher education levels.
The research study aimed at unravelling intricacies around teen motherhood and schooling in arid and semi-arid lands (ASAL) in Kenya. Specifically, the study set out to examine factors that determine re-enrolment and retention of teen mothers in school in ASAL regions in Kenya.
Teen mothers face a host of challenges: food insecurity and lack of basic needs, lack of emotional support from the father of the child, balancing parenting roles and schooling, who takes care of the child while she is at school and social stigma.
Thus, at the school level, implementation of re-entry policy, guidance and counselling, special arrangements to allow time for breastfeeding and moral support from teachers all play a great role in giving teen mothers a second chance to pursue education.
It also emerged that primary school boys and those in secondary schools are responsible for a significant number of teen pregnancies. A cross-section of teen mothers interviewed confessed that their peers – in secondary or primary school – were responsible for the pregnancy, while the rest were made pregnant by adults in the community.
A teen mother revealed that "we were friends for one year before I became pregnant. I used to visit him at their home. We were in the same school but I was a class behind him. I became pregnant in 2016 and gave birth in April 2017. When I told him about the pregnancy he wanted me to abort but I refused."
She added "We continued being friends and I became pregnant for the second time and delivered in June 2018 and that is when I moved to their home. He is now in class 8 in another school.
Schools have devised special ways of keeping pregnant teens and mothers in school. For example, there exist special arrangements that allow teen mothers to either have their babies brought in at break time and lunch time (for breastfeeding) or being allowed to go home during such breaks to breastfeed.
Guidance and counselling were commonly used to support pregnant adolescents and teen mothers to remain in school. However, all guidance and counselling teachers were not trained, and therefore done purely on their own initiative; they lacked technical knowledge required in guidance and counselling.
But despite the gains made, teen mothers and pregnant girls were often subjected to discrimination, ridicule and criticism from peers and staff members.
There were also concerns by some teachers of a possible increase in school pregnancies as a result of supporting adolescent mothers back to school.