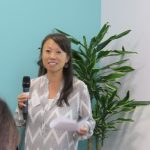 Sharon Tao, Senior Education and Gender Adviser at Cambridge Education, reflects on the success of UKFIET's recent Education for Children Affected by Emergencies conference, in particular the thematic strand of Gender and Inclusion. Even if nobody stuck to the script…
When we got together to organise the UKFIET Education for Children Affected by Emergencies conference (3 October 2018 in Cambridge), our aim was to build on the success of the 2017 UKFIET conference in Oxford. It was actually at our conference last year that a colleague and I were discussing how, although there were several presentations on Education in Emergencies (EiE), it would be great if we could bring together all the knowledge and expertise in this area into one focused event. And given that 2018 was a non-conference year, that is exactly what we did.
Right from the start, we decided not to structure this event to be like a typical conference. We really wanted to promote participation and dialogue among participants, so we developed thematic workshops that aimed to be more interactive and discussion-based. These workshops focused on three significant themes within EiE – Political Economy, Gender and Inclusion, and Forced Displacement. We immediately saw how useful it was to facilitate discussion among researchers, policy-makers and practitioners.
For example, I found it very interesting to sit in a workshop and listen to academics speak with practitioners – both discussing the challenges and tensions they see regarding gender in EiE contexts. Elaine Unterhalter, a professor from IoE-UCL has written extensively about the evidence base that points to the need for a holistic response to girls' education, rather than one-off interventions that rarely work, in and of themselves. She discussed how interventions need to cover a wide range of constraints, such as vulnerability to sexual abuse, extra domestic duties, menstruation and the prospect of early marriage (slides from her workshop session are available here). In the session, Elaine asked: if a donor is meant to be an evidence-based policy-maker, why is it rare to see comprehensive programmes that are based on the evidence?
I replied with an example from Sierra Leone, where I had used her rigorous literature reviews to help design a programme that takes a holistic approach to girls' education. However, due to the donor's previous commitments, and existing political and operational practicalities, we simply weren't at liberty to put the theory into full implementation. And that's in a post-conflict context, rather than an emergency where there are even more political and operational barriers. I think Elaine might have been surprised about some of the issues that practitioners have to face on the ground. A conference like this helps to bridge the gap.
Overall, putting academics, practitioners and policy-makers in the same room led to many clashes between theory and practice, as well as between principles and politics. But these were extremely productive clashes that will hopefully lead to better collaborations, stronger networks and hopefully more EiE events in the future.