Learning for Sustainable Futures – Making the Connections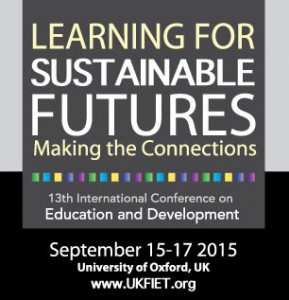 September 2015 will see international agreement on a set of global sustainable development goals which are likely to influence the future work of the education and international development community. The goals promote a vision of sustainable futures which are people-centred, just, equitable and inclusive, and which involve sustained and inclusive economic growth, social development and environmental protection that benefit the children, youth and future generations of the world.
It is becoming evident that developing sustainable futures requires a less 'siloed', more holistic, approach to policy, planning and action. Stronger connections must be fostered between the various sectors and disciplinary traditions of education, and with other development sectors such as health, gender equality, food security, water and sanitation, industrialisation, energy and other areas from the proposed Sustainable Development Goals. Stronger intersectoral and interdisciplinary connections need to be forged within the international development research community.
Learning at all ages, whether it be formal, non-formal or informal, will play a vital role in the development of sustainable futures.
The following substantive questions are therefore posed for deliberation and form the conference sub-themes:
In the promotion of sustainable futures:
Whose learning for whose development needs to be prioritised?
What learning values and curricula should be emphasised?
How can pedagogy and assessment support learning?
What educational planning and resourcing systems are required?
What types of evidence are needed to inform learning?
What approaches to learning content, process and planning are needed to prepare for decent and sustainable work?
How should international support and co-operation evolve in the next decade and beyond?