This blog was written by Margaret Ebubedike, Tajudeen Akanji, Afu Isiah Kanuck, Adaobi Nwoye and Abdulaziz Mala.
A key challenge in researching contexts of protracted armed conflict and crisis is inclusion of vulnerable groups especially children and young people. Traumatic events can affect the ability or preparedness of people with the experience to reflect and share their lived experiences. Therefore, the process of gathering data evidence may be the product of individual attempts to make sense of confusing and often traumatic experiences (Massazza, Brewin and Joffe, 2021). Often, we see researchers exclude these participants because they are often perceived as vulnerable and confronted with diverse levels of trauma. Hence, they will need help and are unable to make contributions to research that affects them.
Research processes which exclude those at the centre of the research, have been seen to create hierarchical relationships between researchers and participants, thereby enshrining extractive, exclusive and endangering research. How then can we create authentic spaces for knowledge co-creation with participants and communities, especially in protracted armed conflict and crisis contexts, in ways that can facilitate deeper engagement with communities, participants and researchers, and open spaces for participants to exercise their agency in the research process and activate (enthuse and engage) participation that can capture feelings of pride and fulfilment.
It was incredible to hear the children express their excitement working on this project – Local facilitator.
This blog reports on networking research which used photovoice with a group of children and young people in the Lake Chad region to provide a means of meaningful participation in research about their lives, experience, and wellbeing needs. The research was supported by the National Academies and the Global Challenges Research Fund (GCRF) and brought together network partners from four nations – Nigeria, Niger, Chad, and Cameroon – to forge new links with network partnerships and communities in the Lake Chad region and to generate innovative transdisciplinary research ideas to address the situation of out-of-school populations, resulting from the Boko Haram crisis.
The Lake Chad region has been undermined by multiple and interrelated drivers of fragility, conflict and violence, with one of the largest concentrations of extreme poverty in Sub-Saharan Africa (Tayimlong, 2021). It is in this region that Boko Haram has been able to thrive, taking advantage of several common developmental issues that affect the people. Boko Haram Islamic sect originated from the northeast Nigeria around 2002. The group was formed by a group dissatisfied with Western education. The abduction of 276 female students from their School in Chibok, Northeast Nigeria on 14th April 2014, attracted international condemnation and led to the "#BringBackOurGirls" campaign (Habila, 2017). Four years after, in February 2018, the group abducted 105 schoolgirls aged 11–19 from their College in Dapchi (Onuoha and Oyewole, 2018).
The series of attacks on school children, especially girls, in the region are an extreme illustration of Boko Haram's resistance to Western education, and the resulting violence, particularly against girls that occurs in the Lake Chad region. Anti-education activities of Boko Haram further exacerbate the situation of poverty and educational inequalities, resulting in protracted loss of education and increased out-of-school numbers in the region. Efforts of state and national government to address the out-of-school population focus on top-to-bottom approaches that exclude the voices and experiences of the communities, children, and young people at the centre of the crisis.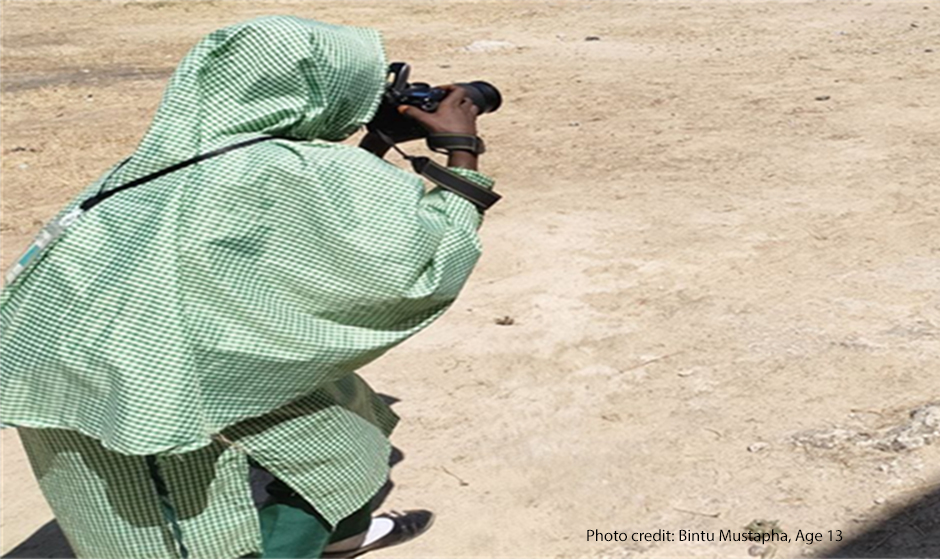 Our photovoice activity with children and young people in the Lake Chad region, was informed by creative use of images, pictures and illustrations by the children and young people themselves. We are reminded by Kuri (2020), that creative approaches to research increases access, creates spaces for including (voice, experience, and presence) marginalised groups who may experience exclusion in more traditional research methods.
My experiences of trauma resulting from Boko Haram attacks don't make my experience or voice irrelevant when decisions are being made about me – Young person 1
Scholars like Dunn and Mellor (2017), mention that emotional and symbolic aspects of people's lived experiences are often difficult to access if we rely on traditional techniques as, "some knowing cannot be conveyed through language" (Dunn and Mellor, 2017, p.294 cited in Ellsworth, 2005, p.156). Children in the Lake Chad region have experiences of extreme educational loss and trauma resulting from schools being burnt down, families separated, homes destroyed, teachers losing their lives and girls being abducted. We engage with the communities to determine how best children and young people in this region can be supported to continue learning in safety. Our photovoice research provided participants the opportunity to develop their capabilities, reflect on their experiences and insights, and to develop a social morality for becoming positive agents of change in their community.
I am now a good photographer. I will keep improving my new skill because I know that photographs can be used to effect change even if it is small – Young person 2
First, we began with a two-day crash photography training with the children and young people. Here we discussed the use of camera and the ethics of photography. The training also covered topics such as ethics around requesting consent and respect. We also looked at ethics concerning how participants interpret photographs taken by them.
In the next phase, participants were asked to take pictures of images and objects that reflected their reality. In a shared learning workshop, participants reflected on the importance of these photos and images and with these images, they engaged with the wider community of stakeholders. Through this, the participants could identify, represent, and promote the change they hope for, and appeal to people of influence to enhance their hope for a better life.
The photovoice research evidenced an empowering process for participants and this remained valuable in this project.
I have become more confident participating in this project – Young person 2

It taught me how to express myself and how to negotiate with people to solve a problem -Young person 3