This blog was written a group of Idara-e-Taleem-o-Aagahi (ITA) South-South Fellows: Waseem Ajmal, Secretary Ministry of Federal Education and Professional Training; Dr Ehtasham Anwar, Commissioner Bahawalpur, Government of Punjab; Dr Fouzia Khan, Additional Secretary and Chief Adviser Curriculum Sindh Education & Literacy Department, Government of Sindh; Saima Anwar, Senior Education Advisor, FCDO Pakistan; and Baela Jamil, CEO of ITA. Most of the Fellows had the opportunity to gather at the 2023 UKFIET conference to further share their learning.
In Pakistan, Learning Poverty has taken centre stage; 77% of 10-year-olds struggle with basic text comprehension. Learning Poverty's complex and pervasive spread demands coherent education reforms supported by diverse coalitions. Government, parliamentarians, civil society, academia, innovators, industry influencers and development partners are rallying to design fit-for-purpose solutions, reshaping the future of education in Pakistan, home to 240 million people. There is a groundswell for alliances not just within the country but also across countries to learn from 'what works'.
Before the pandemic, in 2019, 75% of 10-year-olds (both in and out of school) were in Learning Poverty. Pakistan's commitment to SDG 4 for inclusive, equitable and lifelong education faced a formidable threat. COVID-19 led to intermittent long and short school closures (2020-2022), pushing Learning Poverty to 77% by 2022 (World Bank, 2022). Learning Poverty tracks minimum proficiency in literacy at the end of primary schooling. The growing learning gaps persist throughout life and across generations highlighted well by the "Learning Generation Report" (2016). The Education Commission recommended four transformations of performance, innovations, inclusion and finance to avoid a 'lost generation', widening inequality and lowering economic growth. To take action, coalitions for education are on the rise. The South-South Programme and the People's Action for Learning (PAL) Network comprise diverse actors across continents, coming together deliberately facilitated by enablers and field experiences in search for structured and context-relevant collective solutions
Inspirations from Sobral: a blueprint for change
A coalition of visionary influencers was mobilised to forge action for foundational learning, nurtured by the "What Works Hub' funded by FCDO, and its mission driven partners – the Lemann Foundation, Lemann Center of Leadership and Equity in Education, and the Lemann Foundation Programme in Blavatnik School of Government. Two anchor organisations leading learning accountability initiatives, and members of the PAL Network – Zizi Afrique Foundation and Idara-e-Taleem-o-Aagahi (ITA) – were selected to craft multi-lingual symphonies of collaboration for achieving foundational learning. 
The seeds of transformation were created in the municipality of Sobral, Ceará, the fifth-poorest state in Brazil, in September 2022, by strong leaders from the two continents of Africa (Kenya) and Asia (Pakistan). The chemistry was built and crafted through a design-based approach co-creating possible routes to actions for transformation within local contexts for education reforms in Pakistan and Kenya. Stimulated by Sobral's sustained success and global recognition, 30 education leaders strategically selected from Pakistan and Kenya embarked on a unique Fellowship. This journey has not only been about witnessing the 'art of the possible' in distant geographies through tedious travels, but it was an emotional, cultural, intellectual and systemic osmosis, questioning multiple assumptions about the nuts and bolts of change. These leaders absorbed Sobral's patient, logical and sustained triumphs for learning accountability, backed by a common framework for education in Brazil, Base Nacional Comum Curricular (BNCC), a compact between citizens and the state, forging networks beyond borders. The Fellowship, fueled by shared experiences and a determination to redirect the educational system is a platform to explore micro- and macro-level reforms by multi-sectoral actors.
Sobral's metamorphosis was experienced through detailed school visits (K-12) and deep conversations with key actors of change – headteachers, teachers, parents and students. The education leaders returned to their countries transformed and agitated. As they unpacked their learning and existing practices they realized, as policymakers, practitioners and influencers, the need for creating a bold canvas for foundational learning as critical and as the 'first DNA' for lifelong learning. The visit to Sao Paulo and Sobral in September 2022, was followed by structured online and peer-to-peer conversations across Pakistan and Kenyan counterparts, building cohesive bonds for transnational learning.
Pathways to change – evidence-based local engagement
The target was to address learning for both in-school at-risk and out-of-school children. Pakistan has 33% of 5–16-year-old children out of school with a runaway annual population growth rate of 2.55%. The Pakistan Fellows (15) and extended fellows (15) committed to the overarching goal of ensuring "All Children Learning by Grade 3", rooted in SDG 4 and target 4.1.1(a), meeting minimum proficiency in reading and mathematics with social emotional skills. The fellows rallied around the conviction that foundational learning is a lifelong learning investment. United by this common objective, the coalition committed to actions at micro- and macro-level for policy, planning, target setting and interventions.
The goal of addressing foundational learning gaps through remedial programmes led to identification of, and action in five village clusters across four provinces for: a) overcoming out-of-school children and Learning Poverty through basic literacy and numeracy; b) tackling Learning Poverty through Teaching at the Right Level (TaRL) at local, sub-national and national levels; and c) nurturing community engagement and leadership through customised capacity building to demand system reforms and results-based measurable solutions.
The formation of five clusters /hubs within the federation included flood-affected areas impacted by climate change (North Sindh/Balochistan). These clusters highlighted the urgency of integrating climate change in education through crowdsourcing solutions to address climate justice and environmental degradation in Pakistan; South-South Fellows developed and mainstreamed content on climate change in South Punjab[i].
Understanding and tackling the learning emergency at micro-level
A census of all 1,579 households was completed in February 2023 in five villages by trained community enumerators, uncovering evidence on literacy, numeracy, disability, gender and facilities within their villages. The invisible became visible through citizen-led ASER tools to unmask access, quality and equity in community gatherings in the presence of education departmental personnel to recognise foundational learning gaps and agree on core actions and responsibility at local- and system-level. Data revealed alarming conditions of both in-school at-risk children and out-of-school children. The average rate of out-of-school children in the five villages was 26% and baseline learning hovered from 0 to 36%.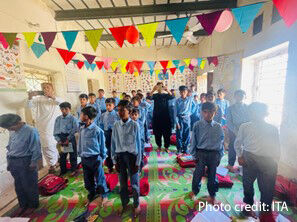 Actions in flood-affected villages in Sindh led to remarkable improvements in learning through TaRL 60-day learning camps. 67% could read a Sindhi story at endline as compared to only 1% at baseline, and 52% could do two-digit division at endline as compared to 0% at baseline. Communities discovered that they could get a system to respond when they were armed by evidence and solutions for "All children in school and learning" – a journey has just begun.
Strategic public sector South-South Programme civil servant Fellows proactively revisited sector plans, programmes, projects with multilateral and bilateral partners, such as the Global Partnership for Education, the World Bank, the UN, FCDO, USAID, JICA, etc. to explore spaces for policy, repurposing foundational learning targets with disbursement linked indicators and financing.
 Building sub-national and national coalitions – Call to Action
A new chapter has begun within 10 months of the South-South Program in Kenya and Pakistan – the coalitions are driven, sharing their best tools, content and practices as open source assets with stronger directions for the long haul.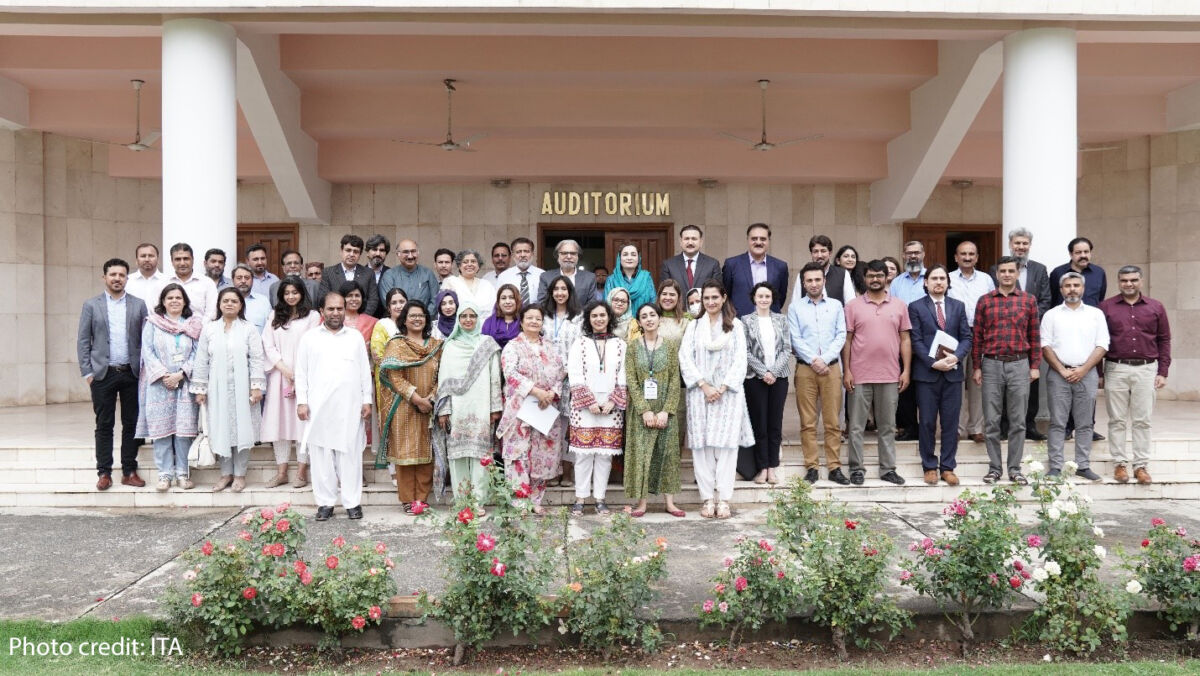 Calls to Action: Towards a national foundational learning metric
Recognising the compelling need for a systems approach, reinforced during the 'Decade of Learning: informing education policy and practice" conference (March 2023), three Calls to Action have been made at conferences, facilitated by the South-South Fellows.
A National Consensus for a Foundational Learning Assessment Metric in Pakistan: A 2-day consultation (31 May-1 June 2023) co-hosted by the Federal Board of Intermediate & Secondary Education (FBISE)[i], the Pakistan Institute of Education (PIE), the Ministry of Federal Education & Professional Training (MoFE&PT), and Idara-e-Taleem-o-Aagahi (ITA), the first round of an open scrutiny of all tools in use was undertaken to create a 'public goods space'. All government assessment bodies, including education foundations, influential non-state actors, partners of the Global Coalition for Foundational Learning and JICA gathered for a common foundational learning assessment tool.
The Pakistan Learning Conference: Hosted by the MoFE&PT[ii] on 21-22 June 2023, this conference was attended by over 200 participants, including active teacher-leaders, South-South Fellows, and national and global speakers from Pakistan. It was a bold call to target foundational learning and early childhood education. The World Bank shared a guide for learning recovery and acceleration through the RAPID framework; Pratham International provided insights to the robust and promising TARL approach while the Lemann Centre shared the Sobral case study, an inspiration for the South-South Programme.
[i] The Chairman of the Federal Board of Intermediate & Secondary Education is the South-South Fellow, Mr Qaisar Alam committed to the National Metric for Foundational Learning.
[ii] The Pakistan Learning Conference  was spearheaded and hosted by the South-South Fellow, Mr Waseem Ajmal Chaudhry, Federal Secretary of MofE&PT, leading the Pakistan Learning Movement, facilitating the establishment of the Foundational Learning Hub, hosting the Inter-Provicial Education Ministerial Conference on Foundational Learning & Early Childhood Education and repurposing projects such as ASPIRE for foundational learning.
The conference culminated in a Call to Action for a Pakistan Learning Movement (PLM) with multiple levers:
a powerful communication campaign leveraging "aaj kya seekha" (what did you learn today) as a public good;
a Challenge Fund launched of Rs.250 billion for foundational learning, early childhood care and education (ECCE) and out-of-school children;
integration of early childhood education and foundational learning in nationwide and provincial programmes across Pakistan;
a special Inter-Provincial Education Ministerial Conference for full concurrence on the next steps;
a joint session of the Parliament on education and foundational learning for a whole-of-government approach;
establishment of a Foundational Learning Hub at the Ministry, with counterpart units across provinces; and
a commitment by all governments to implement a reading hour in all primary grades daily for every child embedded in formative, and summative assessments in primary schools.
The PLM resonates with the Call to Action of the Transforming Education Summit 2022, and the 'Great and Good buys' of the Global Education Evidence Advisory Panel report of 2023 in an alliance mode.
The ECCE and Foundational Learning in Emergencies conference: Hosted by Sindh Education & Literacy Department on 11-12 July 2023, this conference drew attention to the recurrent climate change related emergencies, culminating in the "Call to Action for FL and ECCE in Emergencies". Fellows, teachers and representatives from Sindh and representatives of the South-South Programme amplified actions for foundational learning and early years as a critical cross-sectoral investment, often overlooked in interventions and indicators in emergencies including climate change. A senior public sector South-South Fellow[iii] spearheaded the conference and its outcomes.
Each one of these building blocks has galvanised constituencies of policy and practice within the country to ensure that foundational learning is being mainstreamed in upcoming education initiatives despite turbulent political transitions, leaning on innovations and public private partnerships (PPPs). The South-South Programme fielded PPPs as an example of global public goods to build on. The movement is gaining momentum with new members and networks (e.g. PAL Network) inducted in the South-South Programme coalition, across Pakistan and Kenya. The first Education Parliamentarian Caucus in Pakistan within the Senate (Upper House) is emerging as an important stakeholder to lend support to the movement for foundational learning. Despite the current political flux leading up to the General Elections (2023/24), the momentum for foundational learning as a collective undertaking under the South-South Programme holds great promise for transformative education reforms in Pakistan, strengthened by transnational partnerships in Kenya and Brazil.
[i] The Chairman of the Federal Board of Intermediate & Secondary Education is the South-South Fellow, Mr Qaisar Alam committed to the National Metric for Foundational Learning.
[ii] The Pakistan Learning Conference  was spearheaded and hosted by the South-South Fellow, Mr Waseem Ajmal Chaudhry, Federal Secretary of MofE&PT, leading the Pakistan Learning Movement, facilitating the establishment of the Foundational Learning Hub, hosting the Inter-Provicial Education Ministerial Conference on Foundational Learning & Early Childhood Education and repurposing projects such as ASPIRE for foundational learning.
[iii] Dr Fouzia Khan, South-South Fellow and Additional Secretary Education, Chief Adviser Curriculum and focal person for early childhood education.
[i] Dr Ehtasham Anwar, South-South Fellow, Commissioner Bahawalpur was the Secretary School Education Department South Punjab in 2022.