This blog was written by Willem van de Waal, Senior Technical Advisor, World Education.
Note on photo above: Girl from photo below signing 'thank you' for enabling her to attend school. STAGE project staff are continuously monitoring the well-being of all girls.
Inclusive or exclusive education? More specifically, are we promoting inclusive education in a way that truly benefits all children?
Data from research conducted by World Education in Ghana indicates that we might be overlooking a group of children most in need of our support… We are referring to children with severe or profound disabilities currently in Special Needs Education (SNE). Unfortunately, SNE does not get enough attention in the discussion around 'fully inclusive education systems'.
World Education conducted research in 2022-2023 under the Girls' Education Challenge-funded Strategic Approaches to Girls' Education (STAGE) project in Ghana. STAGE successfully transitioned more than 17,000 formerly out-of-school girls into formal education, or into work. A tracer study confirmed that more than 90% of the girls are still in school two years after this transition and a similar proportion of older girls is successfully managing their income-generation activities.
Of this group, around 1,000 girls are living with a form of impairment, as indicated by data from a community mapping exercise using the Washington Group short set of questions. Educators were trained in inclusive pedagogical practices, appropriate classroom arrangements and teaching and learning materials were created, and girls were provided with assistive devices.
However, we did encounter a group of 19 girls with more severe disabilities, such as girls who are blind, deaf or face profound intellectual disabilities. The reality is that these girls cannot (yet) be accommodated in mainstream schools in many rural areas in Northern Ghana.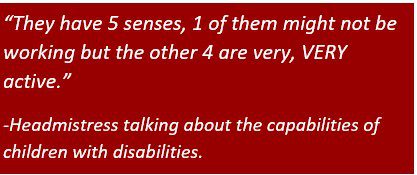 Schools and teachers are not equipped to support children with such severe disabilities. Teachers are not trained, teaching and learning materials are unavailable and safeguarding standards are not in place to support their learning needs or provide appropriate care. We argue that we would be doing harm by placing these children in mainstream schools in their communities. In line with Ghana's inclusive education policy, children with severe disabilities were assessed by medical specialists and supported to transition to SNE. In Ghana, these schools are called 'Special Schools' and are boarding schools. It is here that the challenge begins.
Findings from our research conducted in three schools in two regions highlight the specific challenges that children, parents/caregivers, and educators face.

One challenge is the cost of $500 per child per year, which allows them to travel accompanied by a trusted guide to school and return home during breaks. In addition, all students must bring their provisions for the year: clothing, products for personal hygiene, and supplemental food items. Unfortunately, none of the families we visited can commit to spending $500 annually.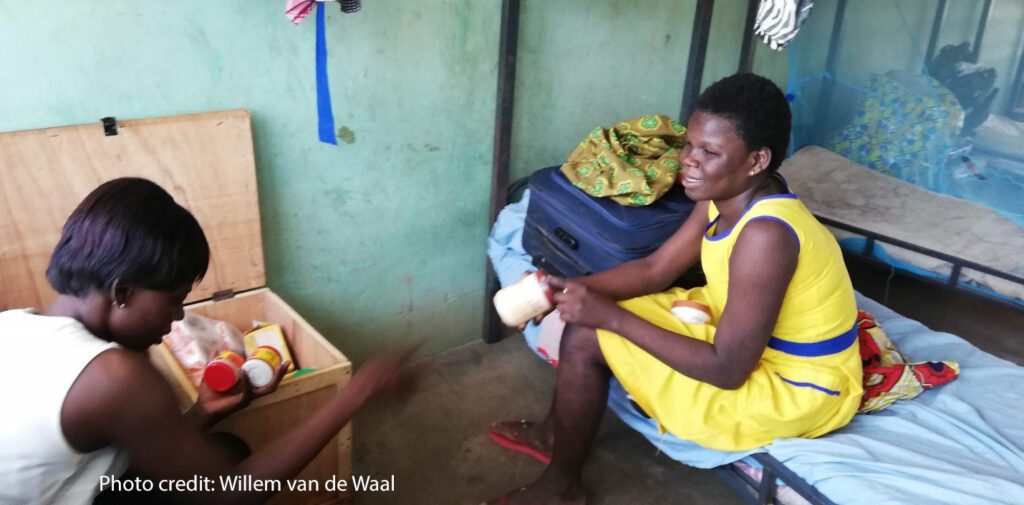 STAGE project staff distribute kits with clothing, personal hygiene and supplementary food items.
A second finding is that most teachers did not receive appropriate training. The table below illustrates the number of teachers who received special education training before being assigned to a special school. For example, during the research, we encountered teachers in a school for deaf students who were unable to sign and teachers in a school for blind students who are unable to read Braille.

Housemothers are staff assigned to special schools to provide daily care and ensure the well-being of the children in school. They are on-campus day and night and work in shifts. However, the number of housemothers in each school we visited is insufficient, with housemothers responsible for between 35 to 80 children.
Lastly, the curriculum is not specifically targeted towards children with various disabilities. All students are required to follow the same basic education curriculum. Teaching and learning materials provided to schools are regularly insufficient or inappropriate, and assistive technology is often unavailable. Class sizes are large, making it difficult for teachers to conduct individual education planning for each child.
These issues are partially fueled by a lack of awareness and prioritisation. Less than 1% of the national education budget goes to SNE, and international stakeholders and donors historically have not provided significant funds to improve SNE.

This blog is meant to raise awareness and initiate discussions with stakeholders in Ghana and international donors to rethink their investment priorities in inclusive education and specifically include SNE .
More discussion and research are needed. Therefore, World Education is looking to collaborate with other researchers, Disabled Persons Organisations, the Special Education Division and other stakeholders in Ghana to get a comprehensive picture of the state of Special Schools in Ghana.
If you are interested, contact Willem at World Education.