This article was written by Susan Place Everhart, CEO of Sabre Education. It was originally published on the Sabre Education website on 28 January 2021.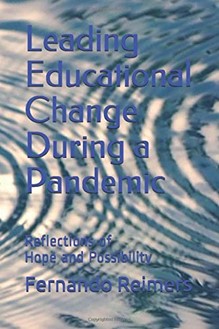 The COVID-19 Pandemic has created an unprecedented challenge for education entrepreneurs working to tackle some of the most pressing education challenges. We were honoured to be asked by Professor Fernando M. Reimers to be part of his recently published book, Leading Educational Change During a Pandemic. Reflections of Hope and Possibility.
Our CEO Susan Place Everhart wrote a short essay for the book explaining the kind of leadership challenges the pandemic created for us at Sabre, and how we addressed them. The book includes lessons drawn from 27 other education leaders from around the world and it will be a really useful read to those of you interested in contributing to sustaining educational opportunity at this critical time. If you would like to read the book in full it is available here.
Read Susan's essay below:
Supporting Early Childhood in Ghana during the pandemic
As we close the 2020 year on this night of December 31st I reflect upon the challenging year this has been, and the leadership that has been required to navigate it, not only at Sabre Education but at organizations globally as we worked to respond effectively to COVID and its impacts on our programmatic missions and on our organizations.
In Ghana where Sabre Education works to ensure that all young girls and boys receive a quality pre-school education towards SDG 4.2, schools across the country closed in mid-March due to the pandemic and have yet to re-open. While some older children have returned to class, primary schools – including kindergartens – have remained closed until at least January. When you consider the critical importance of early childhood education in a child's development and its proven impacts on lifelong achievement, health and wellbeing, the fact that nearly an entire year will have passed without children receiving this vital stimulation is a tragedy. Thousands of children in Ghana – and indeed worldwide – will move into their primary school years in 2021 without having had access to quality early childhood educational programs at a critical time in their brain development.
During this time of school closure, children in Ghana – as in many countries – have remained home without the benefit of virtual schooling. They are in home environments where parents often understand little about early childhood development nor have the training or educational resources to step easily into the teachers' shoes.
Sabre Education is an award-winning international NGO promoting early childhood education, advocating for increased investment in play-based kindergarten curriculum, building transformational pre-school environments, and delivering innovative teacher training for kindergarten teachers in Ghana.
Sabre's vital teacher training programs, delivered in partnership with the Ghana Education Service (GES) arm of the government, focus on experiential in-person training workshops for kindergarten teachers, and follow-up classroom coaching and mentoring for those teachers at school. With schools closed, and in-person gatherings severely restricted, Sabre needed to quickly assess how it could continue to fulfill its mission of ensuring that children receive a quality play-based kindergarten education. Sabre has always worked directly with teachers, head teachers and schools. We have not interacted directly with children or their parents – and yet during the pandemic the only schooling taking place was at home. We had to develop curriculum for kindergarten children and programs to support their parents, and determine how best to deliver these. In short, our programs needed to pivot.
Most children in Ghana live in rural settings with limited technology. We knew we had to consider access and inclusion issues to ensure support for those families and children most at risk of being left behind. Television programming in English, or programs only available over the internet, would have limited impact in the regions where we work. Ultimately Sabre made the decision that using radio broadcasts would be the most effective way to reach large numbers of children. Working with a radio consultant, our early-education curriculum team developed age-appropriate stories to be read over broadcasts three times a week that integrated literacy, numeracy and creative arts' activities. To further increase access, we translated the stories into the local languages of Fante and Akuapem Twi.
To further extend our reach we broadcast our radio programs through the "COMPAS" system – the community public address system loudspeakers set up in most communities. This allowed children whose parents did not have a radio to gather in the community space, around the public address system, to listen to the stories and activities together as a group. Additionally, our Sabre team collaborated with local teachers to set up WhatsApp groups and encouraged parents to take photos of their children's work and submit them for feedback.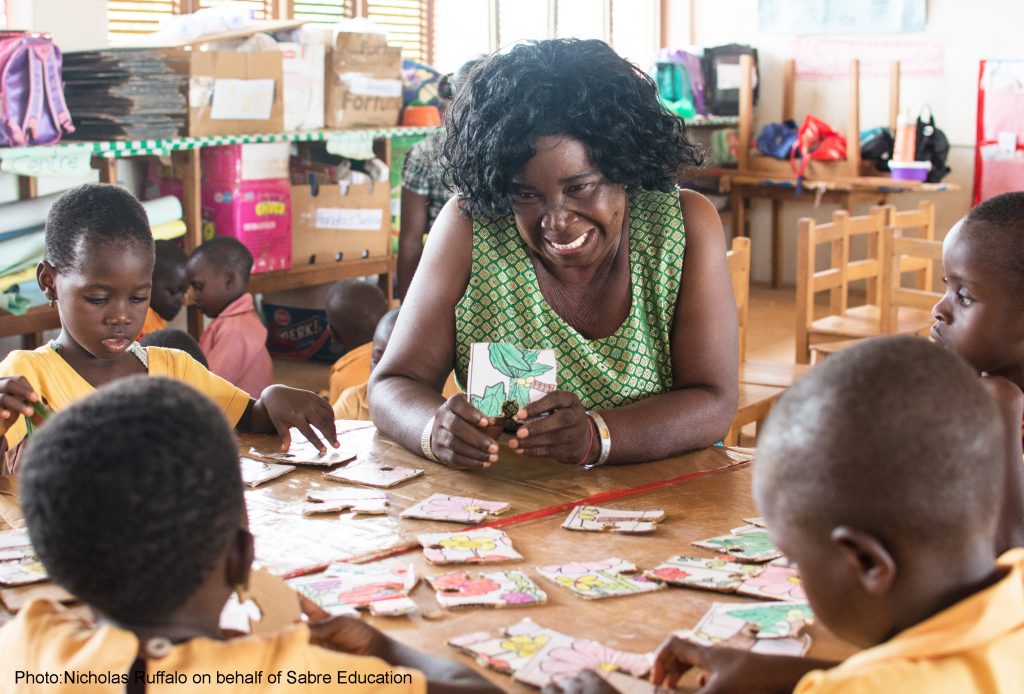 Given the important new role of parents in their children's early years' education, Sabre also made the decision to engage parents directly for the first time. We developed weekly call-in radio programs for parents on early childhood topics, such as how children learn, brain research related to child development, positive behavior management skills, and how to encourage the development of early literacy and numeracy skills at home. We established teams of district-level education officers and kindergarten teachers to serve as experts on the live radio panels. We also worked closely with the Ghana Education Service to encourage teachers to call their students' families, to check on the children's welfare and to provide valuable support and guidance to parents who had suddenly found themselves in the new role of educators. Sabre Education was invited to apply for, and we received, a generous grant from UK Aid Direct to support this COVID response work.
Meanwhile, this autumn, as Ghana began to prepare for a January school opening we were able to re-start our training workshops for kindergarten teachers through a combination of virtual Zoom delivery and some in-person events. This required some re-design of training curriculum for virtual, digital or blended-delivery, and the training of our staff to effectively deliver instruction virtually. Sabre had never delivered virtual training before and – as so many other training organizations around the world have also discovered – there were growing pains for both our staff and the participants. We came to understand the optimal length of virtual sessions, learned how to support teacher-participants who had limited or inconsistent internet access at home, and considered how to translate experiential activities to a virtual world.
While the Sabre leadership and staff team had many successes during the year, our journey predictably also included mis-steps, missed opportunities and mid-stream adjustments. We needed to learn and adapt quickly as we entered new modes of program delivery.
Indeed, the events of 2020 tested leadership on multiple fronts. The pandemic forced NGOs to respond quickly not only on the programmatic side but also in many cases to focus on organizational survival. I have heard many peer CEOs express concerns about their organization's financial health during the most turbulent economic times we have ever experienced. Leaders around the world have worked diligently this year to keep their organizations – not only their programs – healthy and viable.
At Sabre our team focused early in the pandemic on the organization and our staff's transition, and also on our relations with funders and partners. Positive donor relations were critical as programs became delayed, re-prioritized, or changed again and again as school closures continued. Our team reached out to communicate quickly and transparently with our donors to give reassurance where we could and updates as the situation unfolded throughout the year. Many of Sabre's donors were incredible this year – true partners in our work. A number of our committed funders increased their financial support to ensure that Sabre could remain focused on its mission during these challenging times. There has truly been a sense of shared purpose in a difficult year.
An interesting additional complication for Sabre was that it was undergoing a planned CEO transition and recruitment during the spring and summer months of 2020. I came on board as the new CEO on July 1st, having participated in the final interview for the role in early April, just two weeks after the world locked down with COVID. In fact, Sabre had earlier in the year hired a new leader for our Ghana team, Tony Dzidzinyo Kwesi Dogbe. Tony led the Ghana team skillfully through the many program adjustments and innovations of the year and supported our large Ghana-based staff team in the transition to remote working, while our former CEO Dominic Bond led the organization strategically through the pivotal early months of the pandemic. I was fortunate to be able to join an organization with much positive forward momentum, and could set to work on the unique COVID challenge of building relationships with my new team despite never having met my Ghana colleagues in person (still to this day).
Sabre did many things right during this year of challenge. Our leadership team in both Ghana and the UK brought a number of capabilities to the task: bold creativity, out of the box thinking, strong relationship skills and a lot of hard work. They listened to the staff in terms of what was possible and what was not, and flexibly supported the team through a year of uncertainty.
The lessons that Sabre learned this year in terms of remote delivery of educational programs – through radio and Whatsapp platforms, and digital and/or blended solutions – have set Sabre up for our next stage of growth. We are well placed to continue to expand our digital offerings and virtual programs, and not be constrained by geography. This dovetails nicely with our new three-year strategic plan that focuses on scaling our innovative early education programs both within and beyond Ghana.
It is critical that we now support the Government of Ghana to successfully open schools again in January, to implement school readiness training for teachers and staff, and especially to support the children whose education has been so tragically interrupted.
And, while many of us in the education sector did take significant steps forward into the world of virtual delivery and digitization of content, it is critical that we do not leave behind those most vulnerable as education moves forward with technology-enhanced content. We must ensure that those with limited resources can participate in this next stage of education innovation. We must find solutions that are appropriate to the context, and work collaboratively to ensure true access and inclusion for all children.
As we enter 2021 we have a lot of work to do. But with light at the end of the tunnel on the pandemic, and a return to schools for millions of children, hope for a better year is palpable.