This blog was written by Dr Anna Dabrowski, Senior Research Fellow in Education and Development at the Australian Council for Educational Research (ACER).
After months of challenges as students learn from home, we are now looking at teachers with newfound respect. Why did it take a pandemic for us to realise we need to provide better support to our teachers?
Supporting students during school closures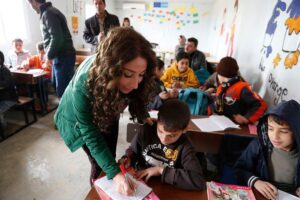 Since the COVID-19 pandemic began, most governments around the world have closed schools and educational institutions as they attempt to flatten the curve and stop the spread of the novel coronavirus. As of 23rd May 2020, these temporary closures have impacted almost 70% of the world's student population: that's a total of 1,198,530,172 students now experiencing a form of "pandemic pedagogy". Depending on where they are in the world, students may be engaging in live online lessons, unpacking content through parent-facilitated remote learning, or, nothing at all.
Not all pedagogy during a pandemic is delivered equally, as not all students have access to the same type of resources. Not all students have a device in the home, indeed, many students do not have access to technology at all. As a result, students are living quite different educational experiences during this pandemic. Coupled with economic recessions and job losses sweeping the world, the impact of the pandemic is a recipe for increased inequity, marginalisation, disengagement and attrition.
As Andy Hargreaves recently noted, support needs to be provided to children who can't readily participate as schools close. As parents struggle to simultaneously work and support their children, family stress levels will rise. Fingers will be pointed as new educational inequalities will surely emerge. And in many countries, it is likely that teachers will again be blamed when students "fail to learn".[i]
Supporting teachers during school closures
It is not the time for blame. Indeed, it's time we recognise the enormous pressure facing teachers during the COVID-19 pandemic. Yet I haven't seen too many media reports of members of the public clapping for teachers like we do for doctors, nurses and firefighters. The stress of returning to the classroom during a pandemic will be a further blow to an already weary profession.
Burnout, stress, and fatigue impact heavily on the engagement of educators, which in turn impacts on the quality of education students receive[ii]. Before COVID-19, the teaching profession was already struggling to support and retain high quality teachers. As many teachers have moved rapidly to implement remote learning, stress has worsened amongst the profession. Indeed, some teachers may never return to the classroom.
Focus on teacher wellbeing
But not all is lost: supporting our teachers by monitoring and responding to their wellbeing is possible. Although educators face enormous challenges in their roles, the difficulty of the profession can be eased by recognising and responding to cultural enablers that ameliorate the impacts of stress on the teaching profession. Positive psychology mechanisms are a good start, but teachers need school-specific support and recognition. Here, there are two key areas of focus for school systems and leaders that can support teacher wellbeing. At an individual level, this includes fostering self-determination, motivation, and agency, while at a community level, building collective efficacy and social capital are crucial to supporting teachers to feel valued within the school community. Both areas involve cultivating supportive relationships with students, parents, and colleagues as a means to enhancing student outcomes.
Valuing quality teaching
Quality teaching is crucial to enhancing equitable student opportunities. Improving education quality is often cited as an area of focus, yet teacher wellbeing continues to be an often-overlooked component in the education debate. The stresses of the profession have been further compounded by the COVID-19 pandemic, particularly in development contexts facing unique challenges of funding, resourcing and instability. In many countries around the world, like Australia where I live and work, teachers feel undervalued. Although figures vary widely, across countries in the OECD, the percentage of teachers who believe the teaching profession is valued by society averages only 26%.
Empathy and respect for the teaching profession is long overdue, and a focus on cultivating teacher wellbeing is crucial. Research tells us time and again that if your employees are happy and well looked after, you will get better results. The teaching profession is no different. COVID-19 will not be the last challenge to our education systems, and there are many lessons to be learned in how we support and engage teachers, particularly in the development sector. Supporting the health and wellbeing of educators was important long before COVID-19, but perhaps it needed a pandemic for us to recognise how valuable teachers really are.
Key words: COVID-19, pandemic pedagogy, teacher wellbeing, social capital, collective teacher efficacy
[i] Dinham, S. (2013). The quality teaching movement in Australia encounters difficult terrain: A personal perspective. Australian Journal of Education, 57(2), 91-106.