This article was written by Chris McBurnie, Country Engagement Consultant for the EdTech Hub, and posted on the EdTech Hub website on 23 April 2020 as part of their coronavirus (COVID-19) and EdTech series.
Every week that passes we see the number of classrooms closed due to COVID-19 increase. During these unprecedented times, the Hub's mission — to increase the use of evidence-based decisions around EdTech — is more important than ever. We must make sure learning goes on.
We hope you read our most recent blog post looking at what the evidence says about educational television. During this post, we will look towards what role radio can play in mitigating the education emergency.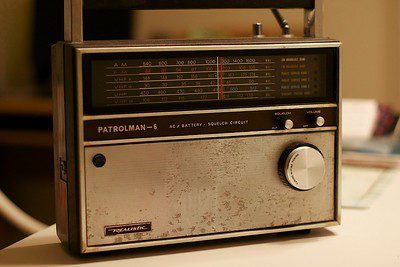 This is an emergency and responses need to be scalable, cost-effective and implemented quickly. One option that fits this is radio. Governments in low-income countries have looked to interactive radio instruction (IRI) to ensure that learning can continue.
But what does the evidence show? We took a look and spoke with Rising Academies to consider what an IRI programme could look like and why policymakers have adopted this intervention.
What is interactive radio instruction?
The majority of IRI programmes focus on core subjects such as maths, literacy and life skills. During the current pandemic, curriculum specialists have looked to develop or re-purpose audio material (Richmond, 2020) to align with national education standards. The provision of curriculum-aligned content can enable children to continue working toward planned learning outcomes. A typical 30-minute IRI broadcast will follow a three-part structure. Firstly, a broadcast will explain a concept to listeners before asking radio actors to practically apply new ideas and then suggesting tasks for students to complete at home. Interactive home-based activities can include quizzes, written exercises, role play and storytelling. During lessons, parents and caregivers will receive instructions on how to support children with unfamiliar content.
Interactive radio instruction: accessibility, complementarity and potential impact
In response to the immediate education emergency, IRI has the potential to enable the most isolated students to engage in education. While less than a third of Sierra Leoneans have a 3G-enabled SIM card, the majority (Wittels & Maybanks, 2016) still have access to radio. In countries with low connectivity rates, IRI can help governments mobilise pre-existing tech to ensure that learning goes on.
Educators can employ other learning resources to complement IRI initiatives. During the 2014 Ebola Crisis, the Education Development Center used SMS text blasts to send class schedules to all students on their IRI programme in Liberia. Education providers could also consider hosting live call-ins to discuss radio content or delivering newspaper supplements with complimentary print material.
In the past decade, education radio initiatives have shown some promising results. In South Sudan, for instance, the Speak Up IRI programme has helped 7,500 out-of-school children improve their literacy, numeracy and English language skills. This example corroborates the findings of an earlier EDC study of 15 IRI projects (Ho & Thukral, 2009) between 1975 and 2000.
What maximises the impact of interactive radio instruction?
Positive results may stem from the opportunity to provide learners with curriculum-aligned content of a consistent standard. When educators design radio scripts, evidence from previous pandemic responses (Hallgarten, 2020) suggests that a process of engagement with civic leaders and religious groups can enhance community buy-in.
However, a Plan International report on the Ebola crisis shows that the poorest students may not benefit from broadcasts as their families do not have radios or batteries. When children can listen to programmes, they may be too hungry to concentrate or struggle to understand radio teachers who speak quickly in an unfamiliar language.
While the impact of IRI initiatives during times of self-isolation remains unclear, educational radio could provide children with an important link to learning ahead of an eventual transition back to school.
Other resources
If you are interested in learning more, you can consult the following resources:
The Rising Academy Network's On Air web portal to access lesson scripts and pre-recorded audio content
The following Skoll Foundation webinar which explores how education providers can teach children at home without internet access
The World Bank's guidance on using IRI to improve educational quality