This blog was written by Thomas Salmon. Thomas is a doctoral candidate at Rhodes University in South Africa and is involved in the external M&E for Teaching For All based at the Centre For International Teacher Education at Cape Peninsula University of Technology, in Cape Town. For the 2019 UKFIET conference, 17 individuals, including Thomas, were provided with bursaries to assist them to participate and present at the conference. The researchers were asked to write a short piece about their research or experience.
Context
It is over 20 years since South Africa's White Paper 6 on Inclusive Education defined a vision based on the principles and values contained in the Constitution to deliver human rights and social justice for all learners; to progressively realise participation and social integration and equal access to a single, inclusive education system. Despite systemic shifts, the legacy of the separate 'special schools' policies of the Apartheid era remains visibly embedded within deficit approaches that deflect efforts bring about change.
Overview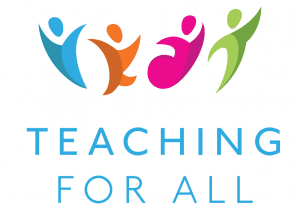 Teaching For All is a curriculum and materials development project that aims to provide teachers with the skills, dispositions and knowledge to teach inclusively in diverse South African classrooms. It has developed materials and curriculum for B.Ed and PGCE programmes and for in-service training. These are being integrated in partnership with South African higher education institutions and provincial education departments across the country. Emerging insights from the M&E team evaluating this intervention were provided this year at the UKFIET conference.
Key deliverables are:
Teaching For All is a British Council project for the Department of Higher Education and Training (DHET) funded by the European Union together with consortium partners (British Council, UNISA, MIET).
All outputs available via the project website.
The Approach
It is a product of collaborative partnerships and broad engagement
A broad range of stakeholders have been consulted from government departments, universities and civil society organisations. Writers include practitioners, policymakers, academics and global experts with comprehensive knowledge of inclusive education in theory and in practice.
 It is based on extensive research and ongoing review
Teaching for All is informed by research conducted with pre- and in-service teachers countrywide and a review of existing policy and programmes. Materials are appraised by peers in academia and officials, and piloted with lecturers and students at tertiary institutions. Ongoing M&E conducted by an external technical team ensures quality and relevance.
 The aim is a systemic impact
Underpinning Teaching for All is the conviction that inclusivity is intrinsic to equitable teaching and learning for all children. The curriculum has been developed as a core module for pre-service teachers rather than an elective. Implementation grants support the module's integration into the universities' curricula, so that inclusivity is mainstreamed as a fundamental approach for all graduating teachers. Short courses for continued professional development, produced in consultation with the provincial education departments, will strengthen the practice of in-service teachers.
 The approach and methodology are innovative and distinctly South African
Teaching for All is uniquely South African — grounded in the human rights movement with a strengths-based approach and the philosophy of Ubuntu at its core. The teaching strategies and multi-media supporting materials are developed for real teachers in real South African classrooms to model the inclusive practices they teach, ensuring they accommodate the diversity of pre- and in-service teacher needs across the country. These materials are all also available as open educational resources hosted online here.
M&E – Emerging Insights
The evaluation with pre-service and in-service teachers has collected data focusing on the impact of the materials upon teachers' knowledge, skills and dispositions (KSD). This has been measured with pre-service teachers with baseline and endline data collected via a questionnaire, through interviews and focus group discussions and material evaluation forms across 9 higher education institutions.
Preliminary results indicate this is a much needed intervention given the absence of effective support for a more coherent approach to inclusive education. The materials address a clear gap given wide institutional disparities in staff capacity and training, as well as the lack of relevant materials drawing upon the South African context that advocate for adoption of a social model alongside medical approaches. The broad uptake by higher education pre-service providers will be complemented by a strategy for roll-out with in-service providers, and with UNISA in 2020 via Open, Distance and e-Learning (ODeL).
M&E within pre-service teacher education: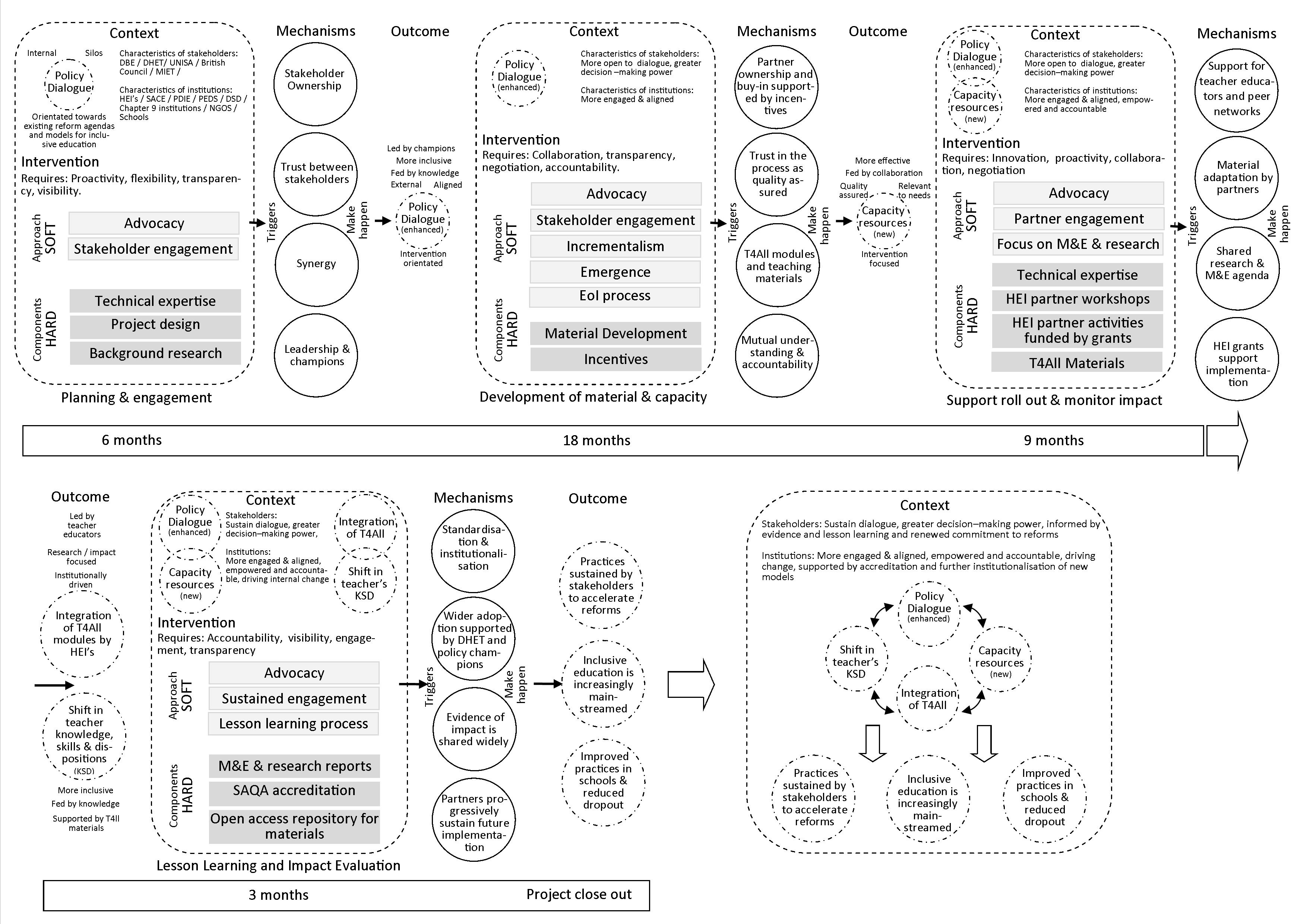 As the diagram above illustrates; a range of mechanisms and components focus on mid-term outcomes with the development of capacity and incentives to support implementation. Over the longer term, broader mechanisms of engagement and alignment also support enhanced policy dialogue and research, which can help to accelerate and sustain inclusive education reforms.
The project is committed to ensuring that the M&E instruments used in the evaluation are made available for re-use and adaptation online, along with the evaluation reports. All the T4All materials, videos and teaching materials are already available as OER via these websites:
For further information on Teaching for All, please contact: joanne.newton@britishcouncil.org.za.
Credit to Joanne Newton for her work used in the T4All overview and approach sections.
References:
Case, A., and A. Deaton. 1999. 'School Inputs and Educational Outcomes in South Africa'. The Quarterly Journal of Economics 114 (3): 1047–84.
Engelbrecht, Petra, Mirna Nel, Suegnet Smit, and Marichelle van Deventer. 2016. 'The Idealism of Education Policies and the Realities in Schools: The Implementation of Inclusive Education in South Africa'. International Journal of Inclusive Education 20 (5): 520–35.
Gustaffson, M. 2011. 'The When and How of Leaving School: The Policy Implications of New Evidence on  Secondary Schooling in South Africa.' 09/11. Stellenbosch Economic Working Papers. South Africa: Stellenbosch University.
Newton, Joanne. 2019. 'Teaching For All Overview'. British Council South Africa. 2019. https://www.britishcouncil.org.za/sites/default/files/teaching_for_all_overview.pdf.
Save The Children. 2017. 'Violence against Children: The Cost of Inaction to Our Society and Economy – Policy Brief'. Pretoria, South Africa: Save The Children South Africa.
Wills, Gabrielle. 2015. 'Improving the Calibre of School Leadership in South Africa'. RESEP Policy Brief. Research on Social-Economic Policy. South Africa: Stellenbosch University