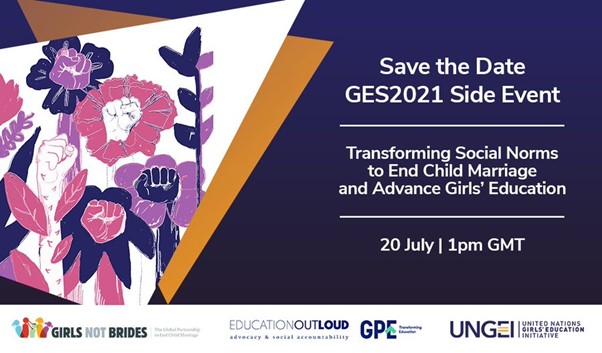 The UN Girls' Education Initiative (UNGEI) and Girls Not Brides* are hosting a side event to the GPE Global Education Summit, Transforming Social Norms to End Child Marriage and Advance Girls' Education. Child marriage serves as a barrier to education for many girls, yet ending child marriage and transforming social norms are rarely explicit education goals. This can change.
In this webinar, UNGEI will present the findings of the desk study on persistent social norms that serve as barriers to girls' education in the Gender at the Centre Initiative (GCI) pilot countries. Girls Not Brides will share emerging learning from their GPE-funded Education Out Loud project working to address child marriage and promote girls' education in Francophone West Africa.
Representatives from youth-led organizations, donor countries, and regional CSOs will come together to call for a greater focus on gender norms for education funding, planning and programming. It's time to target social norms to advance girls' education, end child marriage, and promote transformative change for a gender equal world. Join us!
*Co-funded by Education Out Loud