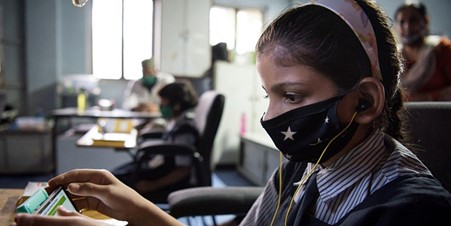 Date: 1 Jun 2021
Time: 10:00am - 12:00pm

Event Type: Webinar
On 1 June, join us online for our next Strategic Debate: "Ensuring quality education for girls during COVID-19: An elusive priority?"
About this event
Ensuring quality education for girls during COVID-19: An elusive priority?
In recent years, girls' education has been a top priority for governments, funders, and global bodies. And yet, during the COVID-19 pandemic, girls have lost out again. While inequalities have been exacerbated for both girls and boys, gains previously made for girls' education are slipping away.
IIEP's upcoming Strategic Debate will present an overview of the impact of COVID-19 on girls' education and will facilitate discussion on the pivotal role of gender norms in education. The Debate will look at how these norms are impacted by crisis, and ask how progress in shifting gender norms can be protected when the pressure rises. How can we ensure that girls' education remains a genuine priority in times of crisis and what happens in countries experiencing multiple crises?
Join the next Strategic Debate on 1 June 2021 from 11am-1pm CEST (check the time of the event in your timezone) with:
Rachel Marcus, Senior Technical Advisor at the Align (Advancing Learning and Innovation on Gender Norms) Platform, Overseas Development Institute
A representative from an international non-governmental organization experienced in girls' education programming during COVID-19
Nicole Gesnot, Counselor, Deputy Director and Chief of Operations, Canadian Embassy to Sénégal
Charlotte Berquin, Education Officer, UNCHR Regional Bureau for West & Central Africa
Fabricia Devignes, Gender at the Centre Initiative, IIEP-UNESCO, will moderate the debate.
This event will be held in both English and French with simultaneous interpretation. Follow the debate on Twitter with #StrategicDebate and @IIEP_UNESCO.