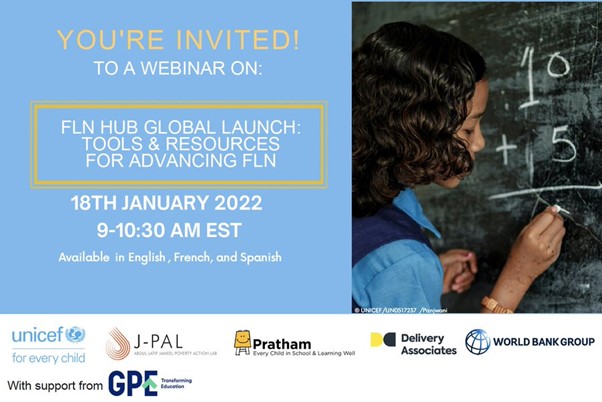 Date: 18 Jan 2022
Time: 2:00pm

Event Type: Webinar
18 January 2022, 2pm GMT
Today, the world is facing a learning crisis, which has been exacerbated by the COVID-19 pandemic. Even before the pandemic, more than half of children in low- and middle-income countries were not able to read and understand a simple text by the age of 10, write or do basic mathematics. Children need a strong foundation in learning to succeed in their education and life. There is an urgent need to accelerate results in foundational literacy and numeracy to ensure that every child is ready to succeed at school by 2030.
As part of its FLN Initiative, UNICEF and its partners J-PAL, Pratham and Delivery Associates, with support from the World Bank and the Global Partnership for Education, recently launched the FLN Hub, a resource website that provides guidance and practical tools to support education actors in strengthening systems to implement FLN programmes. The FLN Hub seeks to combine rigorous research and practical resources to provide actionable guidance for global education actors seeking to address the learning crisis.
This introductory webinar aims to :
Give an overview of the background, purpose and contents of the FLN Hub;
Orient participants to the contents of the Hub.
The webinar also serves to kick off the FLN Academy 2, which will draw on the resources of the Hub to support the conceptualization, design and implementation of FLN programmes.