This blog was written by Dr Tejendra Pherali, Associate Professor in Education and International Development, UCL Institute of Education. The author is organizing a symposium at the 2019 UKFIET Conference to launch the special issue of Education and Conflict Review that focuses on theories and conceptual frameworks in education, conflict and peacebuilding.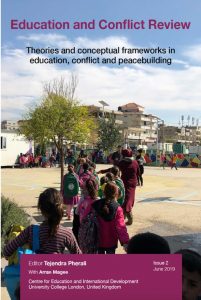 The number of children living in conflict zones today is estimated to be around 357 million. Violent conflicts severely disrupt children's learning opportunities and access to health facilities. Children in violent environments are often exposed to violence which adversely impact on their psychosocial health and cognitive development.
As education is increasingly being recognised as an important player in preventing conflict, building resilience and promoting peace, the field of education and conflict has received significant attention both within academic domains and humanitarian-development sectors.
However, the evidence around the most effective approaches to education delivery in conflict and protracted crises is still meager and there are significant research gaps in policies and practice in tackling issues of access and quality in crisis settings.
The Centre for Education and International Development (CEID) at UCL Institute of Education is involved in a number of research projects to generate evidence and support educational delivery in conflict-affected environments. Dr Tejendra Pherali, leads this area of research within CEID and some of their publications examine educational challenges in conflict-affected Afghanistan, Jordan, Nepal, Palestine and Somaliland.
CEID hosts Education and Conflict Review, an open access journal focusing on debates about education, conflict and international development, providing succinct analyses of interactions between education and social, political, economic and security dimensions in conflict-affected and humanitarian situations. It is a forum for knowledge exchange between academics, practitioners and policy makers to build synergies in addressing educational challenges.
The special issue of Education and Conflict Review attempts to assemble theories and conceptual frameworks that are dispersed across a wide array of academic publications and often inaccessible to those who need them the most, particularly to the education and conflict researchers and practitioners in low-income contexts.
The contributions in this issue provide a critical review of theories, conceptual frameworks and analytical tools that can support research and practice in this field.
Some free copies of Education and Conflict Review will be available. Please do come along to participate in the discussion at 16:00-17:30, 17 September 2019, East School, University of Oxford.