This blog was written by Alison Bukhari, UK Director of Educate Girls. Alison joined the team in 2015, having worked closely with the organisation both in India and the UK for 8 years prior to that. She has worked in the Indian education sector for the last 15 years and has a particular interest in sustainable financing. For the 2017 UKFIET conference, 23 individuals were provided with bursaries to assist them to participate and present at the conference. The researchers were asked to write a short piece about their experience.
Achieving SDG4 will only be possible with more, and the right allocation of funding. Money needs to focus on the outcomes it is aiming to achieve, rather than the activities it is paying for. We cannot continue with business as usual and I was encouraged that the underlying message at the UKFIET 2017 conference was that we have to think differently if we are going to plug the enormous deficit in education funding.
Educate Girls is a local NGO in India that has been burdened by this conundrum as it has incrementally scaled to working in 21,000 government primary schools in Rajasthan and Madhya Pradesh. We are convinced that in order to find the funding we need to really solve the gender gap in India's education system, we have to remain as accountable to the four millionth child in our programme as we were to the first and ensure quality for every single girl and boy. We have to find a solution that the government is prepared to fund. With that in mind, in this, our tenth year, we are at a crossroads and we have some big decisions to make in terms of where and how we travel over the next ten years.
Experimenting with outcomes-based funding or payment-by-results, is one way in which we have sought to inform these big decisions and perhaps lay a new path to sustainable growth.
My paper presented the year two results and learning from an outcomes based funding contract called a Development Impact Bond (DIB), where we have been working to enrol all out-of-school girls in a remote rural district in Rajasthan, where girls are often forced to work in the fields and are kept from school. The contract also focuses on learning outcomes and we are committed to supporting girls and boys in the classroom to improve their abilities in Hindi, English and Maths.

Through the DIB contract, Educate Girls has committed to achieve certain pre-defined enrolment and learning outcomes and the Children's Investment Fund Foundation (CIFF) has committed to paying for the outcomes if they have been achieved and independently verified after 3 years. The difficulty for us would have been the working capital to deliver our programmes, but this is where an investor came in – an additional funder (UBS Optimus Foundation) provided us with the upfront funding to deliver our services, however they can receive their funding back from CIFF, plus interest, on the successful verification of our outcomes. For CIFF, it is payment for success; for UBS, it is the hope of philanthropy funds to recycle, with perhaps a modest return.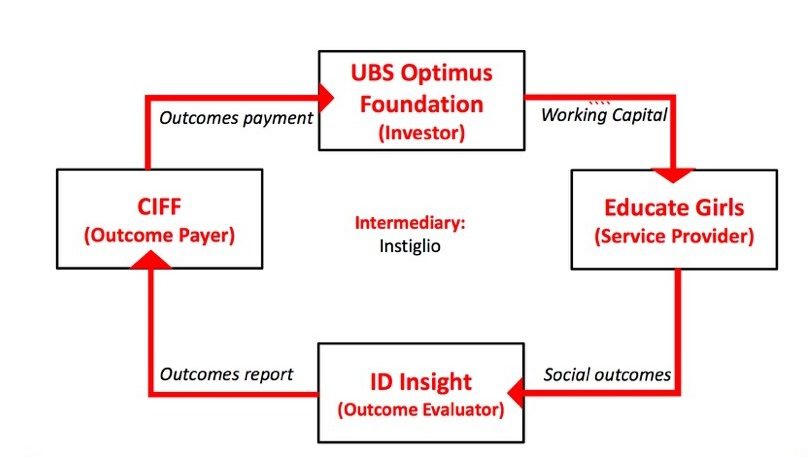 After just two years of the programme, we have reached 87.7% of our enrolment target and just over 50% of our learning gain target. Our investor is on track to receiving all of their funding back, and potentially a small return. We have 7 more months to go before we know how the scrutiny, performance management and incentives have worked for girls struggling to access and thrive in school.
So what have we learnt by delivering this contract? With the upfront investment, has come a lot of scrutiny and a private sector-like focus on results. Our investor helped us with additional capital to overhaul our performance management system and this has had a profound impact on our work. With additional analysis and up-to-date data in their hands, our field workers have been able to make quick informed decisions and course corrections. They have solved the kinds of problems that have kept the older girls out of school, and the barriers in the classroom that prevented the children grasping some of the basic skills they needed to progress in reading and arithmetic.
The focus on results, rather than activities, means that we can adapt our programme to suit the actual needs we find on the ground rather than just deliver a pre-designed activity plan that may be out of date or too formulaic. The reasons that girls are kept out of school are complex, cultural and dictated by poverty. Complex problems require an adaptive solution and this is what we have been enabled to provide through an outcomes focus.
The DIB is proof of a concept we would ideally like to take to state education departments in India to persuade them to consider outcomes-based contracts. The funding mechanism has its critics and we are certainly well aware of some of the downsides that come with such rigorous evaluation, the requirements of a randomised control trial, and the intense pressure it puts our team under. But if we can demonstrate through this more adaptive and results-focused approach that we can deepen impact and support more girls to achieve an education worth having, and if the transparency and accountability that comes with payment-by-results unlocks more funding, then we are on to a great thing.
Further reading
Instiglio, 2015. Educate Girls Development Impact Bond: Improving Education for 18,000 Children in Rajasthan. Instiglio, Inc.
Saldinger, A, July 2017. Development Impact Bonds Gain Momentum. Devex article.
Bhabha, J and Gopi, A, 2016. Triggering Success: Innovative Interventions to Promote Educational Success in India (Chapter One). Harvard University South Asia Institute.