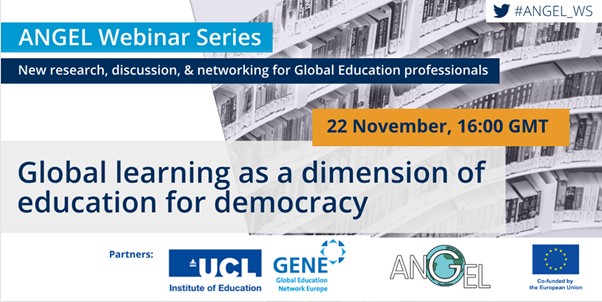 22 November 2023, 16:00-17:30
Democracy, which can be understood as the central basis of coexistence through the core element of democratic decision-making, is under threat. However, the survival of humanity depends on the establishment of balanced processes of interest negotiation, i.e., democracy on a global scale. Given the tension between threatened democracy and the need for shared decision-making, effective democracy education is more urgent than ever. However, democracy-education is often oriented towards learning about citizen-based national instruments of decision making. However, this is an inadequate response, as democracies are globally envolved and influenced.
Therefore, there is a need for more and better democracy education that looks towards a global horizon, and reflecting global social justice.  Global learning becomes a core element of democracy promotion. 
This webinar will focus on the relationship between Democracy Education and Global Learning on an empirical basis. The objective is to explore the perspectives for democracy promotion in Global Learning.
Four studies will be presented:
First, Jana Costa (Germany) will explain which conceptions of citizenship underpin the survey of global competencies in the 2018 PISA survey, this policy agenda set on a global scale.
Secondly, Louise Ohlig and Erick Msuya (Germany and Tanzania) will look closely on the conditions under which school-partnershios open up spaces for democracy learning across different learning contexts.
Elina Kuusisto, Isolde de Groot, Ingrid Schutte and Inkeri Rissanen (Finland, Netherlands) will then investigate the civic purpose of preservice teachers in the Netherlands and Finland, exploring the question of how teachers can be prepared for democracy teaching and learning in a global horizon.
The fourth contribution by Caroline Rau and Emmer Demorel (Germany) investigates Turkish migrants' understanding of democracy from a world society perspective. This study shows that learning to participate should be thought of transnationally – which once again calls into question their nation-state constitution for political education and democracy learning.
This webinar relates to learning for a just, peaceful and sustainable world and focuses on the contribution of Global Learning to democracy education. Insights will be gained through empirical research, both for different groups (pre-service teachers, migrants, students) and in national, international and transnational constellations as in the in-depth analysis of the global discourse agenda.
Chair: Susanne Timm
Discussant: Annette Scheunpflug
This event will last around 90 minutes and will be hosted via Zoom. Please register via Zoom using the button below. After the presentations, there will be opportunities to ask the presenters questions.