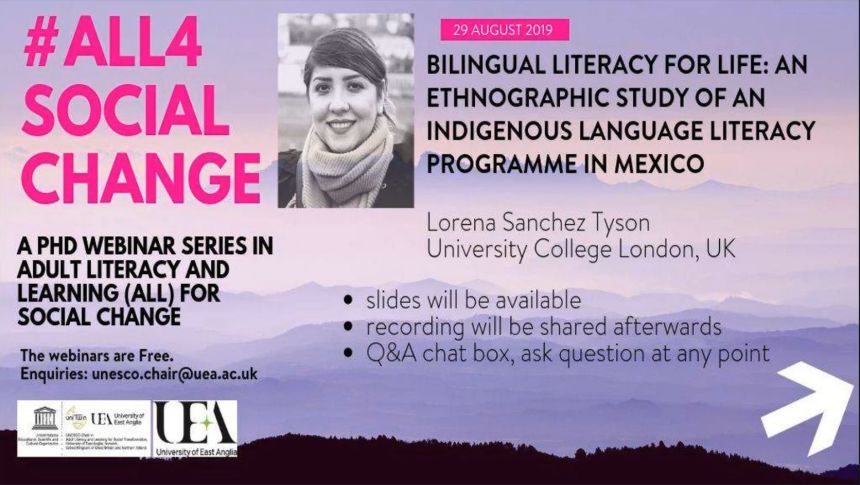 Date: 29 Aug 2019
Time: 1:00pm - 2:00pm

Event Type: Webinar
Free webinar on Thursday 29th August at 1pm
This webinar will focus on Indigenous language literacy practices for adults, specifically analysing a government-led literacy programme in Mexico called the Bilingual Literacy for Life Programme (BLLP). This research is aligned with the current sustainable development agenda that outlines certain transformative goals and targets regarding education, including eliminating gender disparities and ensuring equitable access to quality education, particularly for Indigenous peoples and vulnerable populations.
Drawing from ethnographic techniques in literacy research, three case studies were carried out in the Mexican states of Campeche, Oaxaca and San Luis Potosi. The data that was collected consisted of study circle observations and semi-structured interviews with 25 participants and 9 facilitators in order to determine the impact of this literacy programme and to explore the different meanings, values and uses of Indigenous language literacy in the everyday lives of the participants. This study aims to bridge an epistemological gap between government-led literacy programmes and policies and their respective local practices, thereby informing and enhancing the discourse and literature regarding literacy practices in the social and cultural contexts of Indigenous communities.
Additionally, the findings of this study will have implications for policymakers and practitioners in different country contexts and will aim to contribute to both the wider landscape of international educational development studies in the global South and to adult literacy studies more generally.
Enquiries: unesco.chair@uea.ac.uk
#ALL4SOCIALCHANGE
Presenter: Lorena Sanchez Tyson is a doctoral candidate in the Department of Education, Practice and Society at University College London Institute of Education with a background in NGO program management, language consulting, and teaching. She holds a BA in English from the Universidad Autónoma de Tamaulipas (Mexico), and a joint MA in Lifelong Learning: Policy and Management from both UCL (UK) and the Universidad de Deusto (Spain). Her doctoral research is centered on adult literacy in multilingual and Indigenous contexts. Other research interests include alternative learning/unschooling/de-schooling, postcolonial and decolonial theory, gender, and lifelong learning. Lorena is originally from Tampico, Mexico, and currently resides in London, U.K.
Moderator: Ulrike Hanemann was a former Senior Programme Specialist at the UNESCO Institute for Lifelong Learning (UIL) and currently an Academic Associate at University of East Anglia. Ulrike's particular research interest is in conceptualising literacy from a lifelong learning perspective, and her