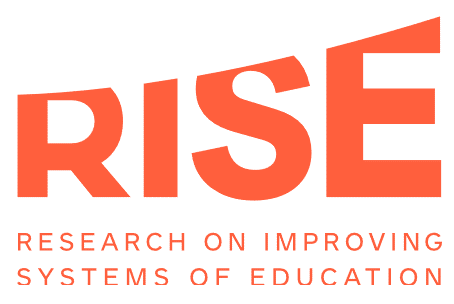 15 November 15:30-17:00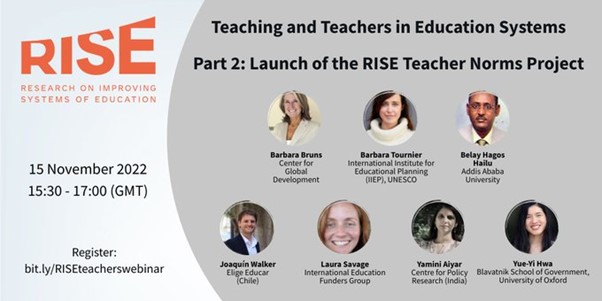 On 15 November 2022 from 14:00 till 17:00 GMT, RISE will hold a two-part webinar exploring the question: How can education authorities and organisations develop empowered, highly respected, strongly performance-normed, contextually embedded teaching professionals who cultivate student learning?
Registration information
Register via Zoom for the webinar
Please note that Part 1, RISE Research on How to Support Teaching, will start at 14:00 GMT and Part 2, on Teachers Professional Norms, will start at 15:30 GMT. Feel free to attend one or both parts of the webinar using the same link.
Part 2: Purpose, pressures, and possibilities: Conversations about teacher professional norms in the Global South (15:30-17:00 GMT)
Chair: Yue-Yi Hwa, RISE Research Manager, Blavatnik School of Government at the University of Oxford
Panellists:
About the event
Beyond official regulations and formal standards, teachers' classroom practice and daily experiences is profoundly shaped by dominant, context-specific norms. These norms are often informal, and they may not be obvious to external observers at first glance. Obvious or otherwise, teacher norms can be a key contributor to the fact that many children around the world complete primary school without learning how to read, write, or do basic maths. For example, in some education systems, dominant norms may prompt teachers to pursue curricular completion rather than children's understanding, or to pay more attention to high-scoring students than to their less academically prepared classmates.
This webinar marks the launch of a significant new project on teacher norms. Titled Purpose, pressures, and possibilities: Conversations about teacher professional norms in the Global South, the project takes the form of an asynchronous symposium of 14 paired interviews between 28 interlocutors with complementary expertise in different contexts or areas related to teacher professional norms. At the webinar, we will launch a book that compiles edited transcripts from the interviews together with three discussant-style essays in which other experts reflect on the paired interviews. 
The webinar will begin with a brief introduction to the project by project editor Yue-Yi Hwa. This will be followed by a roundtable in which a number of interlocutors from the teacher norms project: Belay Hagos Hailu, Yamini Aiyar, Joaquín Walker (representing colleague Verónica Cabezas), Laura Savage, and Barbara Tournier. The roundable will grapple with the intentionally provocative question of, "Should we try to reorient teacher professional norms toward student learning—and, if so, how should we do this?"
Next, the roundtable will field some questions for the audience. Finally, the roundable will conclude with closing remarks from discussant essay author Barbara Bruns.