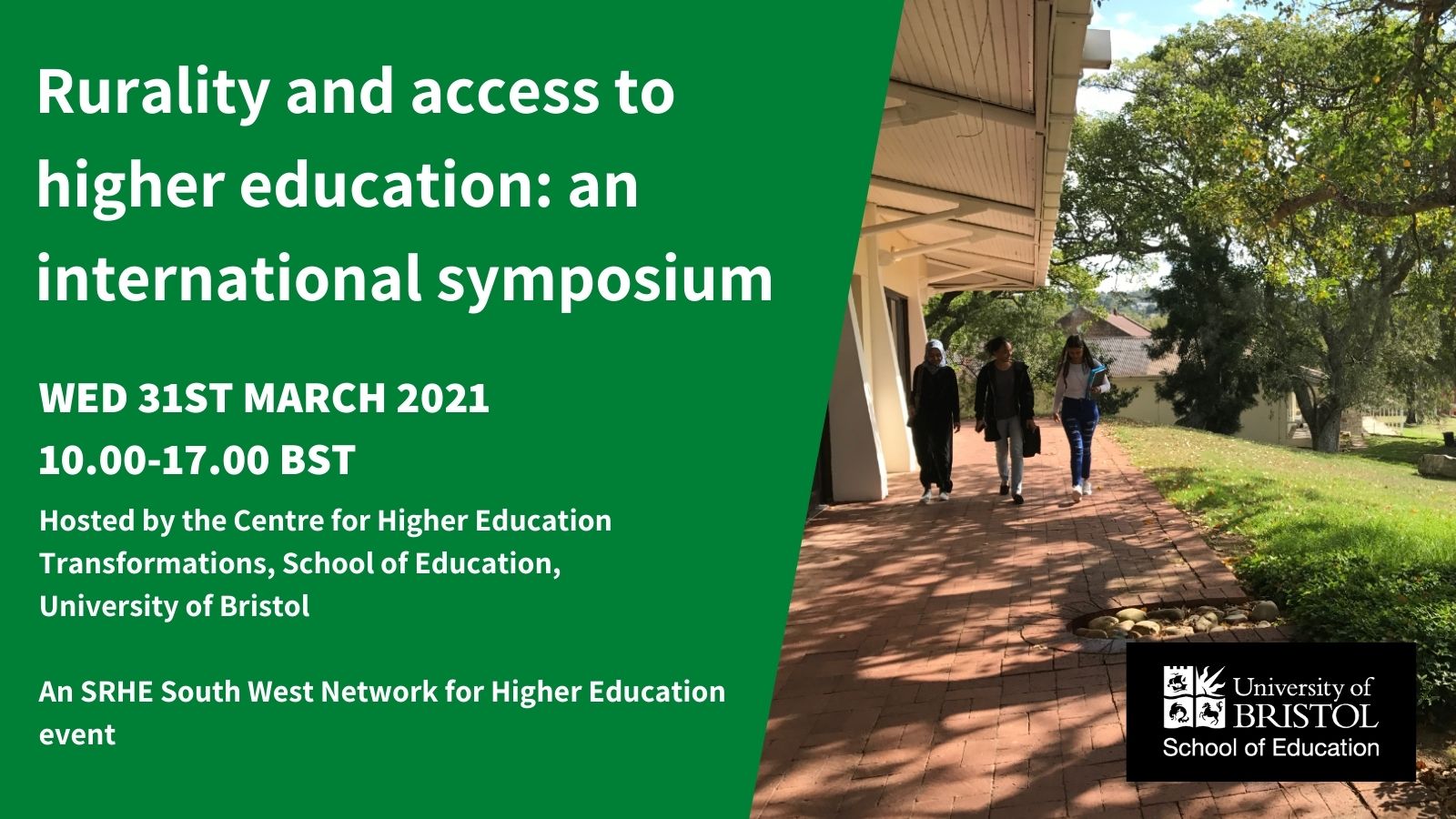 Date: 31 Mar 2021
Time: 10:00am - 5:00pm

Event Type: Symposium
Online, free of charge and open to the public. Early booking advised.
Global inequalities are increasingly manifested spatially and the ever widening disparities between urban and rural populations have been further increased by the massive changes in educational provision and need for digital infrastructure brought on through the COVID 19 pandemic, particularly for low income countries and those in the global South. This one-day symposium will focus on rurality and access to higher education across a wide range of global South and global North contexts, demonstrating that the complexities are not confined to particular countries. Globally, there is a significant amount of research on equity of access but surprisingly little on the mediating effects of rurality on higher education. As UNESCO (2020) highlighted recently, students from rural communities remain under-represented and to some extent, a forgotten group in higher education. The recent Special Issue of the journal Compare 'Rurality and Access to Higher Education' foregrounds these issues (Trahar, Timmis, Lucas and Naidoo 2020). Exploring the experiences and challenges for students from rural backgrounds in accessing higher education across multiple contexts in this symposium is therefore very timely.
Speakers:
Phoebe Kirkup, UNESCO
Maia Chankseliani, University of Oxford, UK
Catherine Montgomery, University of Durham, UK
Juan de Dios Oyarzún, Universidad Católica de Chile, Chile
Per-Åke Rosvall, Umeå University, Sweden
Thea de Wet, University of Johannesburg, South Africa
Kibbie Naidoo, University of Johannesburg, South Africa
Patricia Muhuro, University of Fort Hare, South Africa
Emmanuel Mgqwashu, North-West University, South Africa
Lisa Lucas, University of Bristol, UK
Sue Timmis, University of Bristol, UK
Sheila Trahar, University of Bristol, UK
The symposium will appeal to researchers, policymakers and practitioners. It will be divided into 5 sessions, each with two speakers followed by questions, with short breaks between each one. The final session will be a panel discussion so there will be ample opportunities for dialogue. A full programme with speaker titles will be made available in due course to those who register.
Topics to be covered in the symposium include prior experiences in rural communities, for example, schooling, guidance, resources, identities, aspirations and expectations. How students negotiate the transition to university as well as experiences once there, including teaching, learning and curricula will also be highlighted. Deficit positionings, misrecognition and the ideological control effected by higher education and other social structures and systems are explored across contexts. The symposium will also examine the changes that are needed in higher education including increasing outreach, access and infrastructure, managing transitions, affording students (and teachers) more agency and developing inclusive curricula that reflect the life experiences, cultural values and skills of those from rural areas.
To register for this symposium (which is free of charge), please use the link below. Early booking advised.
REGISTER FOR THIS EVENT VIA EVENTBRITE
Once you have booked, we will confirm and then send a full programme, detailing timetable, talks and speaker biographies.
For more information or queries, please contact Dr Sue Timmis: sue.timmis@bristol.ac.uk