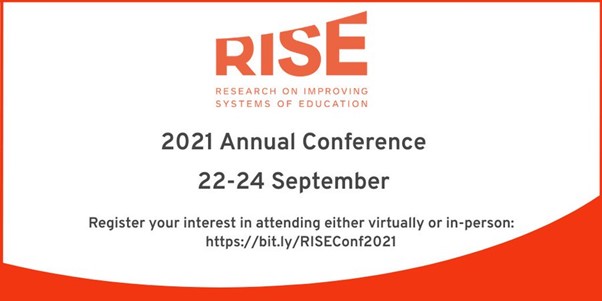 Date: 22 Sep 2021 - 24 Sep 2021
Time: 9:00am - 5:00pm

Event Type: Conference
General information
The RISE Programme would like to announce initial plans for the RISE Annual Conference to take place on 22-24 September 2021, combining a virtual and live event in Oxford, UK at the Blavatnik School of Government, University of Oxford and other international hubs (TBC).
Due to the ongoing COVID-19 pandemic and uncertainty surrounding travel restrictions, we have decided to push back the conference from our usual June dates to allow for the possibility of hosting a hybrid conference. We hope this will permit those based in the UK and other international hubs (TBC) to participate in person (following UK and local government guidelines) and our colleagues elsewhere to join via Zoom.
What does "hybrid" mean in relation to the RISE Annual Conference?
We hope that the RISE Annual Conference will be able to take place using a hybrid format that combines a live in-person event for those in the UK and hub countries (TBC) with a virtual online component for those unable to attend in person. The Blavatnik School's experience of hybrid teaching during the pandemic suggests that having some participants physically present in the same room makes the experience more engaging for virtual attendees as well as for those attending in person. 
We will be using the hybrid learning technology at the Blavatnik School of Government at the University of Oxford to deliver a first-class conference experience.  Among the features of this technology is an AI software that tracks active speakers and uses multi-camera views to ensure a rich and enjoyable experience for those attending online.
Who can join in person?
For those based in the UK, we hope to allow participants to join the conference in person at the Blavatnik School of Government, University of Oxford. We are also in the process of identifying other international hubs where our colleagues can gather to participate in the conference. 
If we are able to offer in-person attendance, we will be adhering to UK and local country guidelines related to social distancing and group gatherings. This might mean that we are only allowed to admit a certain number of participants into the event space at a given time. We will work with our event teams to ensure a safe experience for those that are able to attend in person. 
Please note that we will continuously monitor the situation in the UK and abroad. First and foremost, our priority is to ensure the health and well-being of our conference participants and team members. We reserve the right to make this conference virtual-only, dependent on the local circumstances.  
All virtual participants will be able to join via the Zoom platform.
How much does it cost to register for the event?
As per previous RISE Annual Conferences, this event will be free to attend. Please register your interest in attending the conference by filling in our online form and indicate whether you are interested in virtual or in-person participation. Further information regarding virtual and in-person participation will be released in due course.
Questions about the RISE Annual Conference?
Please send any additional questions to rise@bsg.ox.ac.uk.