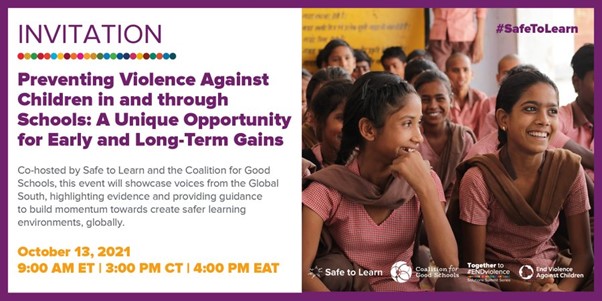 Date: 13 Oct 2021
Time: 2:00pm

Event Type: Webinar
13 October 2021, 2pm BST
Co-hosted by Safe to Learn and the Coalition for Good Schools, this event will highlight evidence and provide guidance to build momentum towards creating safer learning environments, globally. Join this online event to hear from global leaders from the London School of Hygiene and Tropical Medicine, HakiElimu, the World Bank, the Global Partnership for Education, and the UK FCDO.
More than a billion children are expected to be learning on any given school day and will spend up to seven hours in the presence of their classmates and a teacher or adult who is mandated to foster their learning and development. Yet, in some countries, up to 95% of students experience corporal punishment at school and a third of the children report experiencing physical and psychological bullying.
Safe and inclusive education is a basic right of every child, but for too many children around the world, this opportunity is denied. Large numbers of children are intimidated, marginalized and prevented from fully engaging in their educational opportunities due to fear of violence and harm that is perpetrated in learning environments, be they at school, on the way to school, at home, or online. 
As governments around the world shift their focus to reimagining education and work towards keeping children learning in the midst of COVID-19, the Coalition for Good Schools and the Safe to Learn Initiative have come together to co-host a Together to #ENDviolence Affiliate Event to present the case for preventing violence against children in and around schools. It will highlight research demonstrating the magnitude of the problem including the economical impacts, and will provide guidance on how to build momentum towards safer learning, for meaningful progress at the country level.
The event will present an opportunity to discuss this issue in two parts followed by a facilitated discussion.
Part 1: Why prioritize prevention of VAC at schools?
Part 2: What needs to happen to prevent VAC at schools?
Through these discussions participants will:
Gain a deeper understanding of the issue of violence against children in schools
Prioritize the issue of preventing violence against children in and through schools
Learn how schools can be used as a unique entry point to prevent violence
Collectively develop key advocacy strategies, partnerships, and messaging for sufficient investment in creating violence free schools
Appreciate the importance of voices from the Global South in leading this agenda
Speakers: 
Dr. Howard Taylor, Executive Director, End Violence Partnership
Dr. Chloë Fèvre, Director, Safe to Learn Global Initiative, End Violence Partnership
Mr. Dipak Naker, Co-Founder and Co-Director of Raising Voices and Founder of the Coalition for Good Schools
Dr. Karen Devries, Professor of Social Epidemiology, London School of Hygiene and Tropical Medicine
Dr. Quentin Wodon, Lead Economist, World Bank
Ms. Emily Esplen, Head of Ending Violence Team, UK FCDO
Mr. Geoff Adlide, Director, Advocacy and Public Policy, Global Partnership for Education
Dr. John Kalage, Executive Director, HakiElimu