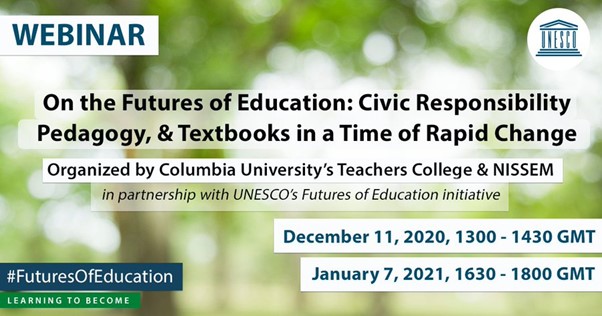 Date: 7 Jan 2021
Time: 4:30pm - 6:00pm

Event Type: Webinar
This webinar is organised by Columbia University's Teachers College and NISSEM, in partnership with UNESCO's Futures of Education.
The Futures of Education initiative aims to rethink education and shape the future in a world of rapid change and increasing complexity.
This webinar explores the following ideas:
How can we prepare for change and complexity?
How is 'change' different in different parts of the world?
Should we profoundly rethink 'education', and what would this mean for curriculum, pedagogy, and textbooks?
The webinar will present key points from three of the background papers commissioned by the initiative and will invite audience participation in lively conversation.
More information about how to register is available here
Abstracts for the papers are available here
Presenters
Helen Haste (University of Bath) & Vidur Chopra (Teachers College, Columbia University)
Michele Schweisfurth (University of Glasgow)
Andy Smart & James Williams (George Washington University) (NISSEM co-conveners)
Moderator
Noah Sobe (UNESCO & Loyola University Chicago)
Discussant
Enrique Chaux (Universidad de los Andes, Colombia)