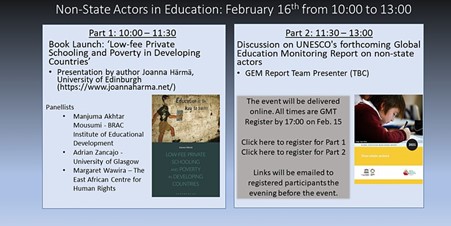 Date: 16 Feb 2021
Time: 10:00am - 1:00pm

Event Type: Webinar
16 February 10.00-13.00 GMT
About this Event
Please join us for this two-part event that explores issues and challenges of the rising role of non-state actors in education around the world. Each part is described below and you need to register separately for each part. The event will take place online on February 16th. Registration is required and free. Links will be sent to registered participants the evening before the event.
Part 1 – 10:00 to 11:30: Book Launch 'Low-fee Private Schooling and Poverty in Developing Countries' with author Joanna Härmä.
Joanna Härmä is a Teaching Fellow at the Moray House School of Education and Sport at the University of Edinburgh. Her research focus is on non-state actors' involvement in education, especially low-fee private schooling in developing countries; she has researched private schooling in India and many countries in sub-Saharan Africa. She has lived in Nigeria, working with state governments to improve their education data on public and private schools and she has also worked at UNESCO (https://www.joannaharma.net/).
Following a 30 minute presentation by Dr. Härmä three expert panellists will add their insights based on their own work on non-state actors in education spanning different regions across the globe. This will be followed by an open Q & A with the audience
Panellists include:
Manjuma Akhtar Mousumi – BRAC Institute of Educational Development
Adrian Zancajo – University of Glasgow
Margaret Wawira – The East African Centre for Human Rights
REGISTER FOR PART 1 HERE
Part 2 – 11:30 to 13:00: Discussion on UNESCO's forthcoming Global Education Monitoring Report on non-state actors
The Global Education Monitoring (GEM) Report is UNESCO's flagship education report, mandated to track progress on the Sustainable Development Goals (SDGs). The theme for the forthcoming 2021/2022 GEM Report is Non-state Actors. The 2021/2 GEM Report aims to tackle debated questions such as who is engaged with with provision of quality education, who deliver it, and how are the actors engaged, in order to monitor the situation, inform and advance research and provide policy recommendations.
This discussion will include an update from the GEM Report team on the progress of the report. It provides participants an opportunity to hear some of the early thinking on the report and add their input.
REGISTER FOR PART 2 HERE