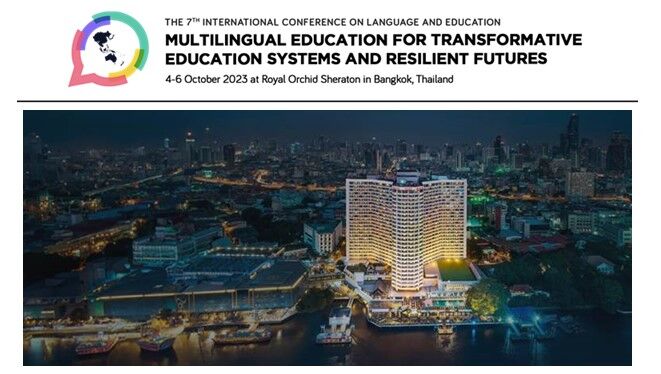 4 – 6 October, Bangkok, Thailand
Join the Conversation, Ignite Your Learning!     
The Asia-Pacific Multilingual Education Working Group (MLE WG) is pleased to announce that registration is now open for the 7th International Conference on Language and Education (7MLE). This year's conference will be held at Royal Orchid Sheraton Hotel in Bangkok, Thailand, from October 4-6, 2023.
The theme of the 7MLE is "Multilingual Education for Transformative Education Systems and Resilient Futures." The conference will bring together educators, linguists, researchers, policymakers, and language enthusiasts worldwide to discuss the latest research and practices in language and education.
The 7MLE will focus on the following 12 key themes:
Foundational learning in first languages
Assessments for MLE learners
Teachers' recruitment and professional development in MLE environments
Additive MLE models
MLE programme evaluation
MLE developments
MLE policies
Digitalisation of MLE
Inclusion in MLE
MLE in crises and emergencies
Environment, climate change and MLE
Education and the International Decade of Indigenous Languages (2022-2032)
These themes are of critical importance to the future of language and education. We are confident that the seventh edition will provide a valuable opportunity for participants to share their ideas and insights on these topics.
We would like to encourage you to register today for the 7MLE.
The registration deadline is on September 19, 2023.
P.S. If you have already registered, be sure to mark down the sessions that pique your interest and share this opportunity with your colleagues and friends by forwarding this email.
We look forward to seeing you all in Bangkok!