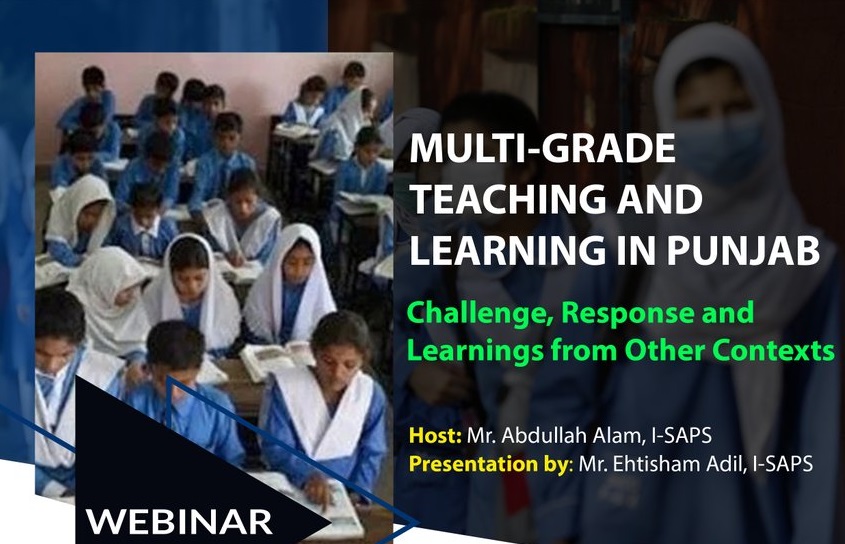 Date: 13 Apr 2021
Time: 10:30am - 12:30pm

Event Type: Webinar
2.30-4.30pm PKT/ 10.30am-12.30pm BST 13 April 2021
FEATURING
Dr. Angela Little – University College London, Institute of Education
Mr. Ghulam Farid – Secretary, School Education Department (SED)
Ms. Saima Anwer – Foreign, Commonwealth and Development Office (FCDO)
Ms. Umbreen Arif – Ministry of Federal Education and Professional Training
Dr. Irfan Muzaffar – Khyber Pakhtunkhwa Education Sector Programme (KESP)
Mr. Bilal Ahmed – Institute of Social and Policy Sciences (I-SAPS)
Mr. Ehtisham Adil – Institute of Social and Policy Sciences (I-SAPS)
HOST
Mr. Abdullah Alam – Institute of Social and Policy Sciences (I-SAPS)
ABOUT THE EVENT
Multigrading in classrooms is a pronounced phenomenon in Punjab (and in Pakistan, in general) and warrants a tailored and careful approach to tackle the challenge. Without adequate teaching and learning support mechanisms in place, students in such setups are disadvantaged in comparison with their counterparts studying in monograde classrooms.
I-SAPS, SED, and FCDO have organized a webinar to discuss the multigrade teaching and learning challenge in Punjab, Pakistan. The webinar will delve deeper into the multigrade challenge, its implications, and the way forward to address the situation.
For Registration:
For registration and queries, kindly reach out to us at info@i-saps.org or by dialing +92 (0)51 111 739 739.
Join Us here: https://bit.ly/3sV1Oga