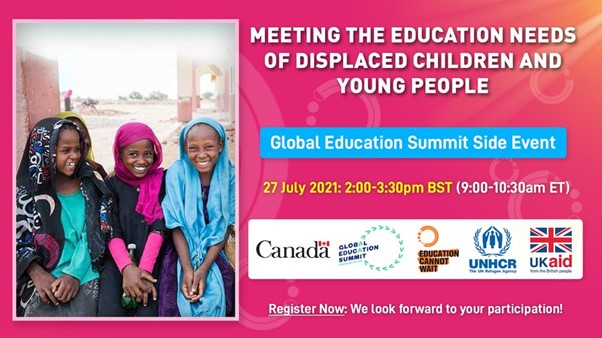 Date: 27 Jul 2021
Time: 2:00pm - 3:30pm

Event Type: Webinar
27 July 2021, 2-3:30pm BST
By the end of 2020 more than 82 million people were forcibly displaced – of which 33 million were under 18. Children and youth displaced by conflict and crisis risk dropping out of school and never returning, especially girls and learners with disabilities.
UNHCR and Education Cannot Wait are convening a high-level roundtable to spotlight the needs of displaced children who are at risk of being left even further behind as we prepare for a post-COVID-19 world. Planned within the framework of the Global Education Summit, participants will hear from refugee and IDP youth, reflecting on the role of the international community in supporting them to learn, and on their own vision for education for vulnerable displaced communities.
The discussion will be opened by UN Special Envoy for Global Education, Gordon Brown. Ministers of Education from Burkina Faso (TBC) and Pakistan (TBC) along with Ministry representatives from the UK and Canada, INGOs and refugee youth will jointly reflect on both challenges and promising practices to overcome the barriers children affected by displacement face, and how we should collectively frame the global response.