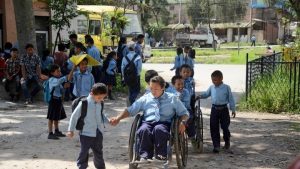 Date: 28 Jul 2020
Time: 2:30pm

Event Type: Seminar
July 28, 2020
Online/Streaming Live
Join live: July 28, 2020 | 8:30 am ET or 2:30 pm BST
https://live.worldbank.org/lessons-from-covid19-for-inclusive-education
The world is faced with a global education emergency of unprecedented scale. According to World Bank estimates, the COVID-19 pandemic, at its peak, caused more than 180 countries to mandate temporary school closures, leaving 85 percent of the world's learners out of school.
Children with disabilities and their families – especially those living in poverty – face significant multiple vulnerabilities during this pandemic, including education, health, and social protection.
The World Bank's Inclusive Education Iniative (IEI) invites you to participate in a Global Seminar to discuss our latest Issues Paper, 'Pivoting to Inclusion: Leveraging Lessons from the COVID-19 Crisis for Learners with Disabilities' on July 28, 2020, from 08:30am to 10:00am ET.
The live event will feature experts and thought leaders who will provide reflections on the paper, based on their unique perspectives on inclusive education, remote learning, and social inclusion and protection.
Agenda
This seminar will invite discussion around the Inclusive Education Initiative's (IEI) Issues Paper, "Resetting the Disability Inclusive Education Agenda- COVID-19 and the Opportunity to Build Back More Inclusively," a resource for governments, implementation agencies, and multilateral agencies that provide guidance as education delivery is rethought and planned in response to COVID-19 and as schools reopen. The seminar will include the following:
Unveil the IEI's issues paper titled 'Pivoting to Inclusion: Leveraging Lessons from COVID-19 crisis for Learners with Disabilities.
Global Reflections: Discussion on the inclusion of learners with disabilities during the COVID-19 pandemic and beyond.
Regional reflections: Discuss the usefulness of the paper with country representatives from Africa and South Asia covering education, digital technology, and social inclusion and protection issues.
Invite discussion from Organizations of Persons with Disabilities (OPDs) regarding barriers to accessing remote learning and solutions for learners with disabilities during COVID-19.
Briefly share the Human Capital Project brief on COVID-19 and Persons with Disabilities.