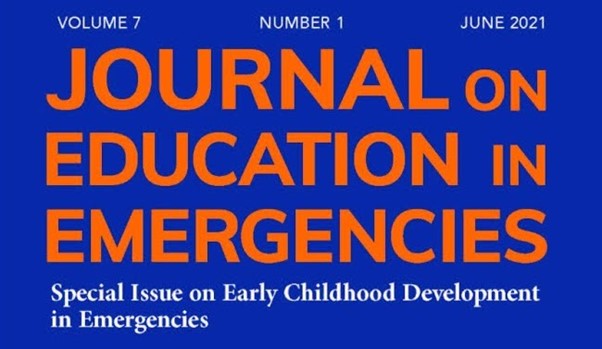 Date: 23 Jun 2021
Time: 2:00pm

Event Type: Webinar
Wednesday 23 June 23 2021, 9am Eastern Time or 2pm BST
We are pleased to invite you to join us for a webinar on the launch of a new issue of the Journal on Education in Emergencies!
This webinar will be conducted in English, with closed captioning. All are welcome; registration is free.
Once you register, a unique join URL will be sent to your email. A recording of the webinar will be shared on the INEE website.
***************************************
Marking the launch of JEiE's special issue on early childhood development in emergencies, contributing authors, issue editors, and guest speakers will highlight some of the lessons being learned through efforts to address the needs of young children and families living in humanitarian situations. The articles featured in this publication explain ECD through various lenses: education, child protection, health and nutrition, mental health and psychosocial support, and responsive caregiving.
Presenters:
Dana Burde, Associate Professor and Director, International Education, New York University, and Editor-in-Chief, Journal on Education in Emergencies
Jessica Hjarrand, Global Programme Manager – Early Childhood Development, Education in Emergencies, Porticus Foundation & representative for Moving Minds Alliance
Sweta Shah, International ECD Consultant
Joan Lombardi, Senior Scholar, Center for Child and Human Development, Georgetown University
Jonathan Seiden, PhD student at Harvard Graduate School of Education
Fabiola Lara, Senior Specialist on Early Childhood Care and Development at Save the Children
Ayat Al Aqra, Early Childhood Development Manager for the Ahlan Simsim program in Jordan
Katelin Swing Wilton, Senior Specialist in Early Childhood Development at International Rescue Committee
Samier Mansur, co-founder of LiveSafe mobile safety app and founder of No Limit Generation
Moderator: Heddy Lahmann, Senior Managing Editor, Journal on Education in Emergencies