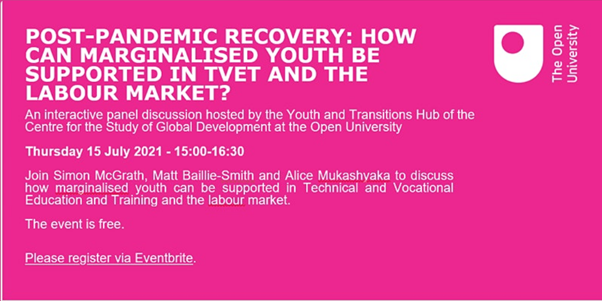 Date: 15 Jul 2021
Time: 3:00pm - 4:30pm

Event Type: Webinar
Post-pandemic recovery: How can marginalised youth be supported in Technical and Vocational Education and Training and the labour market?
3-4:30pm BST
On July 15th 2021, the Youth and Transitions Hub of the Centre for the Study of Global Development at the Open University will be launched. The launch will be marked by a panel discussion on the lessons that have been learnt during the Covid-19 crisis and how Technical and Vocational Education and Training (TVET) and labour market systems can ensure equitable outcomes for the most marginalised?
The panel will comprise three persons, Prof. Simon McGrath, Prof. Matt Baillie- Smith and Alice Mukashyaka. The discussion will be moderated by Dr Michael Boampong and Dr Rod Earle.
Prof Simon McGrath will present on 'moving from youth transitions to just transitions'. He will problematise the notion of youth transitions which tends towards linearity, a one-size-fits-all model of young people's complex lives, and certainty about and externally-defined destinations. He will argue about the importance of considering the concept of just transitions and what this means for education and training and youth lives and livelihoods.
Prof. Matt Baillie-Smith will explore the role of voluntary labour in building skills and employability for refugee youth in Uganda. Drawing on data collected as part of the Refugee Youth Volunteering Uganda project (www.ryvu.org), he will argue that there is a risk that volunteering is seen as a panacea for youth development in the global South, ignoring the inequalities it can (re)produce and limited evidence on its impacts.
Alice Mukashyaka will draw on her research experience with the Restless Development, a youth led development agency as well as her experience leading a Rwandan Ed-tech startup that makes STEM learning kits and introduces young students to STEM careers, to emphasise the role of TVET in empowering young females in Rwanda.
About the speakers
Simon McGrath is UNESCO Chair in International Education and Development at the University of Nottingham and an Extraordinary Professor at the University of the Western Cape, South Africa. He has worked in research and policy advice on education and development for over 25 years, including a secondment to UNESCO and roles as a government scientific advisor in two countries. He was formerly editor-in-chief of the International Journal of Educational Development, was lead editor of Routledge's Handbook on Education and Development and author of their textbook on the same topic.
Matt Baillie-Smith is Professor of International Development and co-Director of the Centre for International Development at Northumbria University. His research focuses on citizenship, civil society and development, with particular interests in volunteering in humanitarian and development settings and young people and the climate emergency. He is currently PI of the ESRC/GCRF funded Refugee Youth Volunteering Uganda (RYVU) (www.ryvu.org), PI of Issrar, a BA/GCRF funded project on youth agency for sustainable development in Palestine, CoI on the UKRI Living Deltas Hub (www.livingdeltas.org) and joint PI of Volunteering Together, collaborative research the INGO VSO on the ways different kinds of volunteers can come together to promote development.
Alice Mukashyaka is a young professional and education enthusiast, born and raised in Rwanda, with extreme passion for education, research and social entrepreneurship. She is the advocacy Manager for Education & Livelihoods at Restless Development and she co-founded Starlight, a Rwandan Ed-tech company that makes STEM learning kits and introduces young students to STEM careers, mentorship, and role models. She advocates for youth participation and education and she lives to witness a sustainable world with equal access to opportunities and safety.