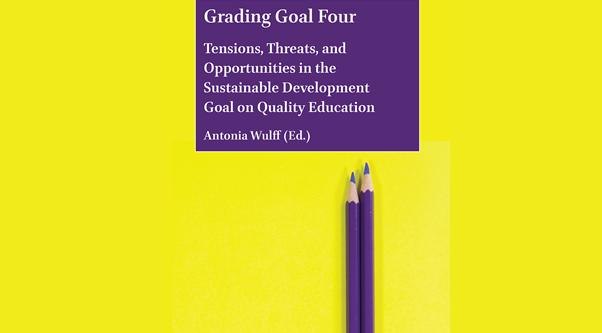 Date: 21 Jun 2021
Time: 3:00pm - 4:30pm

Event Type: Panel
21 June 2021, 16:00–17:30 CEST, 15:00-16:30 BST
On the anniversary of the publication of Grading Goal Four edited by Antonia Wulff, Director of Research, Policy and Advocacy, Education International, NORRAG is hosting two 90-minute webinars that will re-examine the findings of the book in the light of COVID-19. Grading Goal Four was published in April 2020 as it was dawning on the international education community and the world in general that COVID-19 was not just a temporary scare but a lasting and dangerous pandemic. Schools were already closed in a majority of countries in the world and education at all levels had already seen disruption never seen on this scale. As the COVID-19 pandemic has unfolded, it has devastated lives, livelihoods, public goods, and many aspects of education where progress has been possible towards the 2030 targets and goals. 
The webinar will be made up of two panels, both concerned directly with the sustainability of progress towards Goal 4:
The first panel on 21 June focuses on the inevitable – but perhaps too-little discussed – question of prioritization of targets and what COVID-19 may have to teach us about both explicit priorities and de facto ones based on funding system priorities. 
The second on 24 June looks at sustainability, from the complementary angles of the responsibility of education to contribute to needed changes knowledge attitudes and values, and from that of how educational systems structure and functioning affects sustainability within and beyond education.
Participants can register for both events at the link below. The panel discussion will include time for dialogue with the audience. 
Webinar Outline
Panel I: Are holistic approaches and prioritization truly antinomic?
Date and time: 21 June 2021, 16:00 – 17:30 CEST
The pandemic has unfavorably disrupted education budgets all over the world. Non-loan external financing is stagnating at best and is likely to fall. Discussions about the global education architecture now generally include questions about overt prioritization within the SDG goals and targets. These group around universality of access, equity of delivery and accountability for results. This panel will look at sustainability of impact, the feature with the longest time frame and also the hardest to measure.
Opening remarks: Moira Faul, Executive Director, NORRAG
Chair and introduction: Antonia Wulff, Director of Research, Policy and Advocacy, Education International
From Chapter 11: Reshaping Quality and Equity Global Learning Metrics as a Ready-Made Solution to a Manufactured Crisis, Panelist: William C. Smith, Senior Lecturer in Education and International Development, University of Edinburgh
From Chapter 6: Universities, the Public Good, and the SDG 4 Vision, Panelist: Elaine Unterhalter, Professor of Education & International Development, IoE-University College London
From Chapter 10: Teachers Are More Than 'Supply' Toward Meaningful Measurement of Pedagogy and Teachers in SDG Panelist: Bilal Barakat, Senior Policy Analyst, Global Education Monitoring Report (GEMR) and Stephanie Bengtsson, Project Officer at IIEP (UNESCO)
Discussant: Hugh McLean, Senior Programme Advisor to Education Programme at Open Society Foundations
Questions from the audience