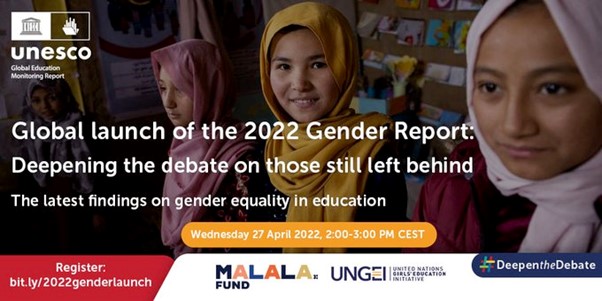 Date: 27 Apr 2022
Time: 1:00pm

Event Type: Webinar
27 April 2022 1pm BST
#DeepentheDebate on those still left behind – Global launch of 2022 Gender Report  
On 27 April UNESCO's Global Education Monitoring (GEM) Report is hosting a webinar in partnership with the Malala Fund and United Nations Girls Education Initiative to launch the '2022 Gender Report: Deepening the debate on those left behind' which shows that girls have closed or reversed gaps in education access and completion. But this is not the full story. The detail, this Report tells us, is in the data.
Behind incredible global progress over the past two decades, examining data more closely shows that pockets of extreme exclusion still exist. The latest in this annual series of gender reports moves the discussion forwards on gender equality in education; it calls on us to use its data to understand where exclusion is still affecting girls, but also where it is affecting boys.
Webinar participants will hear from girls' education champions, policy makers, donors, civil society leaders and gender experts from around the globe. All united by a collective ambition to achieve gender equality in and through education, and to deepen the debate on those still left behind. 
Register here to join, in English or French, 2:00-3:00 PM CEST on Wednesday 27 April.