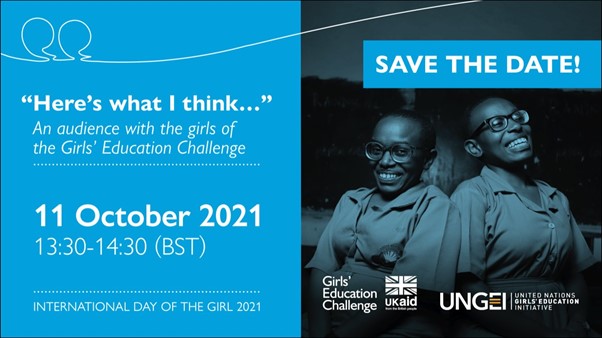 Date: 11 Oct 2021
Time: 1:30pm - 2:30pm

Event Type: Webinar
Monday 11 October 2021 13:30 – 14:30 (BST)
On International Day of the Girl 2021, the Girls' Education Challenge, in collaboration with UNGEI, will be holding a live event where girls supported by our projects will share their views and experiences on the importance – and challenges – of girls' education.
 We will hear from the girls directly on the obstacles they have faced in accessing education, particularly during COVID-19, the ways these obstacles have been tackled, their aspirations and hopes for the future. They will also share their messages to global leaders on ensuring education for all girls.  
Emma Spicer (FCDO), Sharon Tao (GEC) and Antara Ganguli (UNGEI) will kick off the session, setting the scene and busting some myths.
We will then interview eight girls from four GEC projects:
Empowering Girls with Disabilities in Uganda through Education, Cheshire Services, Uganda
Kenya Equity in Education Project (KEEP), World Service of Canada, Kenya 
Every Adolescent Girl Empowered and Resilient (EAGER), International Rescue Committee, Sierra Leone
Supporting Transition of Adolescent Girls through Enhanced Systems (STAGES), Link Education, Ethiopia  
We hope you can join us for this exciting day!