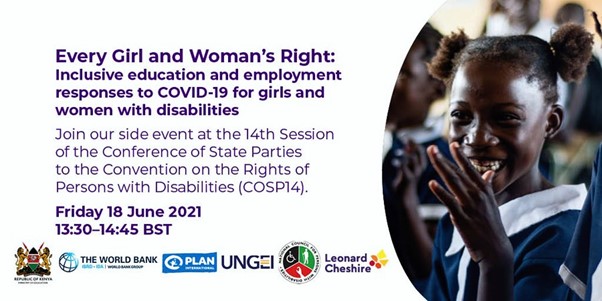 Date: 18 Jun 2021
Time: 1:30pm - 2:45pm

Event Type: Webinar
Friday 18 June 2021, 1:30-2:45pm BST
Access to quality education for girls with disabilities is a basic human right and there are comprehensive models of inclusive education that can change the potential a woman with disabilities can reach.
This event is an opportunity to present education and employment strategies and recommendations, and discuss how disability will fit in post-COVID policies, to ensure that no girl or woman with disabilities is left behind.
Location: 14th Session of the Conference of State Parties to the Convention on the Rights of Persons with Disabilities (COSP14), Online Zoom Webinar
Background:
2021 signals a year of global commitments on education and economic recovery where countries come together to build a fairer and more resilient world post COVID. Yet currently, there is still a significant gender gap in formal employment among women and men with disabilities.
Adolescent girls and young women with disabilities are the least likely to have access to labour market opportunities, and girls with disabilities still have the lowest rates of school attendance and completion, making disability and gender two of the most prominent factors in educational marginalisation.
Speakers:
Chair, World Bank, Deepti Samant Raja, Social Development Specialist
UNGEI, Antara Ganguli, Head of UNGEI Secretariat
Kenyan Government, Fredrick Haga, Director Special Education, Ministry of Education
Kenya National Council for Persons with Disabilities
Leonard Cheshire, Elaine Green, Head of Influencing, Campaigns and Public Affairs
Dorothy Mulei, Gender Coordinator, Innovation to Inclusion at Plan International
Leonard Cheshire Youth Lead Advocate, Nichakarn (Khim) Kaveevorayan
Objectives of this event:
To discuss the interrelation between education and access to employment for women with disabilities and understand how access to quality education is critical for gaining meaningful and secure employment.
To present the Leonard Cheshire Inclusive Education Model; a holistic and community-based model shown to improve access, participation, and learning achievements for children with disabilities, including for girls with disabilities.
To highlight the importance of education transitions in contributing to meaningful employment and present the UNGEI/LC 'Leave No Girl with Disabilities Behind' advocacy brief and video.
To present Plan International's analysis of gender dynamics, power relations, and gender and disability-specific barriers that women and men face when seeking private sector employment in Kenya and Bangladesh. This will include a presentation of the core challenges and constraints women with disabilities face in their empowerment and economic participation.
To present recommendations for key changes that need to take place in programming approaches and policies for gender transformative actions that will promote the opportunities for full socio-economic participation of women with disabilities to be realised.
To join us:
The webinar will be hosted on Zoom and you will be sent a link after you have registered. Please do so today to confirm your place(s).