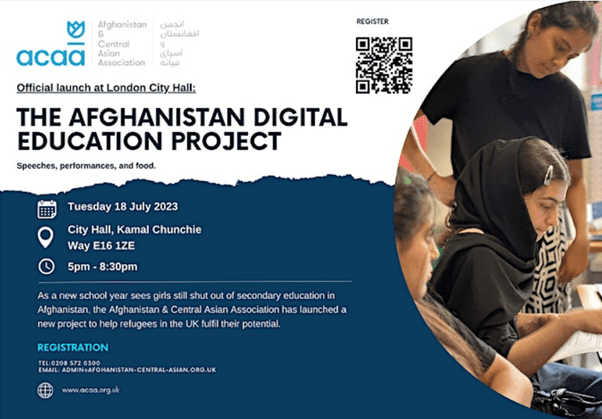 Tuesday 18 July, 17:00-20:30 BST
Venue: City Hall, Kamal Chunchie Way, London E16 1ZE (free to attend)
With the current crisis in Afghanistan and the Taliban's ban on girls' education, it is crucial that we support these young female refugees in acquiring the skills necessary for their success in education and employment.
Keeping this in mind, the Afghanistan and Central Asian Association charity has started a new project called The Wired Future: Digital Education for Afghan Girls. This 2-year project will impart in-person and online digital skills to 400 Afghan refugee girls in the UK, training them in basic and advanced computer skills like Microsoft Office, Coding, App Development, and Graphic Designing along with educating them on important topics such as digital rights, digital security, responsible digital usage, and digital emotional intelligence.
The evening will include speeches, traditional music and dance performances, a display of work by Afghan girls, and some amazing food and tea/coffee to keep you refreshed. This is an excellent networking opportunity for you to meet people from different walks of life, including charities, tech organisations, and parliamentarians.