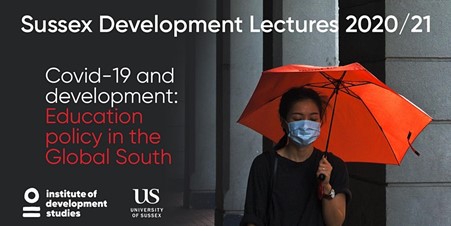 Date: 14 Jan 2021
Time: 5:00pm - 6:00pm

Event Type: Lecture
Sussex Development Lecture.
Click to register for online event
Yusuf Sayed, Professor of International Education and Development Policy Centre for International Education, University of Sussex, in conversation with Fazal Rizvi, Emeritus Professor. The University of Melbourne Australia.
Is this a moment for some fundamental transformations in development – what do these look like and how might they be taken forward?
This event is part of the Sussex Development Lecture series on Covid-19 and development – building back better?
Sussex Development Lectures are jointly run by the Institute of Development Studies (IDS), the School of Global Studies , the Science Policy and Research Unit (SPRU) and the Centre for International Education (CIE), based at the University of Sussex.