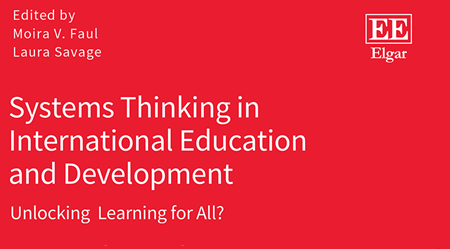 8 February 13:00-14:30
The global education crisis is a complex problem that requires change from teachers, school managers, civil society, implementers, planners, governments and donors. Addressing the issues that lie beneath this crisis requires new ways of working. Systems thinking is a suite of approaches to grappling with complex problems that are beginning to gain traction in international education.
The next book in the NORRAG Series on International Education and Development brings together new research in the field of systems thinking in international education. Published in January 2023 as an open access title by Edward Elgar, UK, Systems Thinking in International Education and Development, edited by Moira V. Faul, Executive Director, NORRAG and Laura Savage, underlines the urgency, scale and complexity of the crisis of declining student learning trajectories despite significant financial investments and reforms and proposes systems thinking as a way of understanding global education crises and facilitating the real change needed to achieve SDG4.
Speakers and moderators:
Chanwoong Baek, Academic Director, NORRAG
Moira V. Faul, Executive Director, NORRAG
Karen Mundy (Discussant), Professor of Educational Leadership and Policy, University of Toronto
Laura Savage, Associate Member, Research for Equitable Access and Learning (REAL) Centre, University of Cambridge, UK
Eligibility
The webinar is open to all, it is however necessary to register.
After registration, please make sure to check your spam folder if you have not received the confirmation email. In addition, we recommend users from public institutions to use a personal email address to register as Zoom may be blocked by your place of work.
By completing this registration form, you agree that all data submitted will be treated and stored confidentially by NORRAG. The information is requested for project purposes and will solely be used to inform our project monitoring, evaluation and learning process. In addition, we will contact you with a follow-up email after the event. To learn more about the processing of your personal data and the exercise of your rights, including the right to withdraw your consent to the use of the data collected on this form, please consult https://www.graduateinstitute.ch/privacy_policy