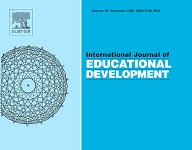 Date: 18 Mar 2021
Time: 2:00pm

Event Type: Webinar
WEBINAR: International Journal of Educational Development
Beyond business as usual: Aid and financing education in Sub-Saharan Africa
(IJED Volume 78, October 2020, 102247)
Keith M Lewin
DATE: Thursday 18th March,2021
TIME: 14.00 UTC
Since the 1990 World Conference on Education for All in Jomtien, well over half a trillion dollars has been disbursed as aid to education, much of it targeted on low-income countries. Some of the recipients have transformed their education finance systems and have developed into bona fide fiscal states able to support their recurrent and capital spending on education from domestic revenue. But many low income countries have not made this transition successfully and remain dependent on successive waves of external assistance to reduce their financing gaps.
The status quo is no longer a viable way forward. Grant aid is unlikely to grow as the Covid-related recession supresses donor spending. Concessional lending to countries with sub-prime credit ratings and high debt service ratios looks imprudent. The size of the shortfall in funding to achieve SDG4 is now so large that no feasible amount of external assistance could fill it, nor could it be relied on to pay recurrent costs including teachers' salaries into the future. If the amounts needed were deployed from global agencies it would generate unprecedented levels of dependence in those countries receiving most assistance.  
This webinar is based on Keith Lewin's 2020 paper in the International Journal of Educational Development "Beyond business as usual: aid and financing education in Sub-Saharan Africa :
(Available free at https://www.sciencedirect.com/science/article/pii/S0738059320304065)
This webinar is part of a series of invited papers which explores key issues for development. The first paper in the series by Nicholas Burnett argued that the international architecture for education is failing to meet the needs of low income countries and that it was hypocritical for development partners to call for systemic reforms to education within countries at the same time as neglecting their own broken system. Burnett's paper is titled: "Invited Essay: It's Past Time to Fix the Broken International Architecture for Education," IJED, Vol. 68 (July, 2019) pp. 15-19
(Available free at:  https://www.sciencedirect.com/science/article/pii/S0738059319303633)
Keith Lewin's paper is the second in the series. In it Keith develops the case that external assistance to education must repurpose itself to suit new circumstances. The purposes must shift towards accelerating development without creating dependence. The modalities should focus on catalytic investments designed to enhance efficiency and effectiveness that can yield benefits that are sustainable into the indefinite future. This is an alternative to using financing to support discrete projects and address single issues. These may fill some gaps temporarily but do not do so sustainably. Nor can they be on a scale that is large enough to resolve global crises in access and learning. 
The learning crisis is at heart also a financing crisis. Ways must be found to escape from the low financing traps that have persisted despite hundreds of billions of dollars in assistance. The exit route has to lead to the development of fiscal states that can avoid an "infinite do-loop" of using aid to fill and refill financial gaps rather than addressing their underlying causes. Simply persisting with the same kind of development financing  as in the past will be no more successful in promoting sustainable development than it has been since the 1990s. It is time to try something else. 
About the speakers:
Keith Lewin
Keith Lewin is the Emeritus Professor of International Development and Education at the University of Sussex. He has coordinated numerous multi-country research projects on educational planning and finance, science education, teacher education, and aid to education. He was director of the UK DFID-funded Research Centre on Educational Access and Equity, and has acte4d as a research advisor to the World Bank, African Development Bank and the Government of India's RMSA program. His publications include more than 200 journal articles, technical reports and books. He was the founding Director of the Sussex international master's program, is a fellow of the UK Academy of Social Sciences, a Chartered Physicist, and was chair of UKFIET until 2020. His website is www.keithlewin.net.
Nicholas Burnett
Nicholas Burnett is a Senior Fellow at Results for Development (R4D), chairs the Board of UNESCO's International Institute for Educational Planning, and is a visiting professor at Nottingham and Kobe universities.  He was previously founding Managing Director for Global Education at R4D, Assistant Director-General for Education at UNESCO, Director of the Education for All Global Monitoring Report, and Human Development Manager for West and Central Africa at the World Bank.  He was educated as an economist at Oxford, Harvard and the Johns Hopkins universities.